Education & Research
Expanding the opportunities for students to learn about sustainability from a variety of perspectives.
The goals of the Sustainability Council's Education & Research committee are to raise awareness of the importance of sustainability and to weave sustainability into the curriculum and research agenda at the University of Louisville. We seek to provide students, faculty and the public with a diversity of opportunities to study and investigate the most pressing sustainability challenges facing society through:
Resources for Teaching about Sustainability
UofL's EcoReps Program - provides a series of short online training videos and supplementary readings on a variety of sustainability topics which can easily be incorporated into courses. The program also offers a certification program and service opportunities for students, faculty, and staff.
Campus and Course Conversations - an adaptation of Living Room Conversations that offers a practical and powerful approach to support the rising spirit of citizens coming together, outside of the partisan bickering, to create new relationships, to spark opportunities and to encourage sustained engagement to address local and national challenges.
Sustainability Education & Economic Development (SEED) Center - offers an online resource center featuring curricular materials and more organized around 7 sectors: Solar, Wind, Green Building, Energy Efficiency, Sustainable Agriculture/Food/Land, Transportation&Fuels, Clean Tech, and Sustainability Education.
En-ROADS - An interactive simulator and scenario modeling tool from Climate Interactive and MIT Sloan's Sustainability Initiative that allows you to see the global climate impact of making various changes to business-as-usual. Can you find a way to keep us under 2 degrees C of warming?!
Climate, Adaptation, Mitigation, E-Learning (CAMEL) - A free, comprehensive, interdisciplinary, multi-media online resource of credible content and curricular tools to help educators more effectively teach about climate change.
UofL Libraries Sustainability subject guide - Connects faculty and students to some resources to get you started.
Giving assignments in sustainability to your students?  Check out these Key Components of Quality Sustainability Assignments - focus on solutions and systemic change, rather than disempowering "doom and gloom." Make the work relevant to the skills of being change managers (key sustainability learning outcomes). Evaluate your students using the International Sustainability Literacy Test to measure knowledge of sustainability issues and the skills required to make change.
Interested in Campus As A Living Lab projects?  AASHE's Guide for Applied Sustainability Learning Projects: Advancing sustainability outcomes on campus and in the communityprovides a step-by-step framework for how applied learning for sustainability programs can be designed, built and scaled around two interconnected goals:

Provide students with exceptional learning experiences in sustainability;
Contribute to workable solutions that support tangible sustainability outcomes on campus and the surrounding community.

The publication brings together lessons from on-the-ground management of applied learning for sustainability programs across the U.S. and Canada with literature related to sustainability science, sustainability pedagogy, change management and partnership development.
Disciplinary Associations Network for Sustainability (DANS) and the Higher Education Associations Sustainability Consortium (HEASC) have created the Sustainability Learning at Colleges and Universities discussion forum where you can post questions, discuss ideas, and get insights from colleagues around the world.
Sustainability Improves Student Learning (SISL) - a select group of academic associations/disciplinary societies working together to increase students' learning in undergraduate courses, and better prepare students for the 21st-century big questions that relate to real-world challenges such as energy, air and water quality, and climate change. Here you will find helpful teaching resources and information on workshops and events.
Sustainability Course Books Available!
The Education & Research committee has acquired the full set of excellent course books produced by the Northwest Earth Institute and is eager to loan them out to anyone at UofL interested in weaving sustainability into their courses or educational events. To borrow the books, contact Justin Mog at 502-852-8575 or justin.mog (at) louisville.edu and leave your campus mail address. Course books available include: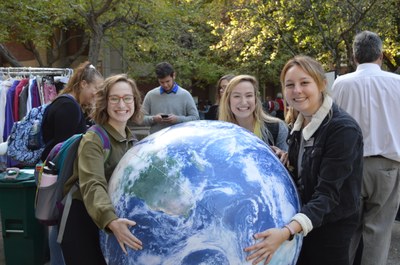 VOLUNTARY SIMPLICITY
This course explores the personal and environmental benefits of simplicity. Topics covered include: The Meaning of Simplicity ♦ Living With Less ♦ Making a Living ♦ Do You Have the Time? ♦ Living Simply on Earth ♦ Celebration & Call to Action
DISCOVERING A SENSE OF PLACE
This course considers the potential benefits of knowing and protecting our place. Will a commitment to the local bioregion affect our willingness to accept responsibility to care for the Earth? Topics covered include: A Sense of Place ♦ Responsibility to Place ♦ Knowing Your Bioregion ♦ Living in Place ♦ Mapping Your Place ♦ Building Local Community ♦ Empowerment ♦ Celebration & Call to Action
CHOICES FOR SUSTAINABLE LIVING
Each of us makes choices that have an impact on the Earth. In this course, learn about which options are more sustainable than others. Topics covered include: A Call to Sustainability ♦ Ecological Principles ♦ Food ♦ Buying ♦ Communities ♦ Business and Economy ♦ Visions of Sustainability ♦ Celebration & Call to Action
MENU FOR THE FUTURE
This course explores food systems and their impacts on culture, society and ecological systems. Participants will gain insight into agricultural and individual practices that promote personal and ecological well-being. Topics covered include: What's Eating America ♦ Anonymous Food ♦ Farming for the Future ♦ You Are What You Eat ♦ Towards a Just Food System ♦ Choices for Change ♦ Celebration & Call to Action
HEALTHY CHILDREN—HEALTHY PLANET
This course explores the influence our fast-paced, consumer-oriented society has on children, and how families can deal with these influences. Topics covered include: Cultural Pressures ♦ Family Rituals and Celebrations ♦ Advertising ♦ Food and Health ♦ Time and Creativity ♦ Technology and the Media ♦ Exploring Nature ♦ Celebration & Call to Action
GLOBAL WARMING: CHANGING CO2URSE
Learn more about the history and science of global warming. Explore personal values and habits as they relate to climate change and consider actions to curb global warming. Topics covered include: Off Course ♦ Collision Course ♦ Changing Course ♦ Setting a New Course ♦ Celebration & Call to Action
SUSTAINABLE SYSTEMS AT WORK
This five session course for the workplace is designed to further organizational sustainability initiatives. Session topics include: Seeing the Big Picture ♦ Taking a Closer Look ♦ Framing Sustainability ♦ Seeing It Through ♦ Focusing on Action
A WORLD OF HEALTH: CONNECTING PEOPLE, PLACE, AND PLANET
A six-session discussion guide that explores "good health," the connections between human health and the environment, and how we can sustain both. Session topics include: Redefining Health ♦ Eating Well ♦ Building Healthy Communities ♦ Curing Consumption ♦ Healthy Planet-Healthy People
A six-session course addressing core values and how they affect the way we view and treat the Earth. This discussion course is designed to: clarify values through discussions about our relationship to Earth; discover how personal beliefs and values affect the way we view and treat the earth; and explore what it means to take personal responsibility for Earth. Session topics include: Wild Nature ♦ Shifting Paradigms ♦ Nature and Spirit ♦ The Universe Story ♦ Ecopsychology ♦ Bringing it Down to Earth
JUST BELOW THE SURFACE: PERSPECTIVES ON THE GULF COAST OIL SPILL

A one session discussion guide that explores the connections between Deepwater Horizon, energy policies and our lifestyles. The course offers an opportunity to reflect further on this historical event and the lessons it holds for us moving forward—individually and collectively. The intent is not to assign blame, but rather to take responsibility—as conscious consumers and concerned, active citizens.
Other Books Available To Loan:
Earth in Mind: On Education, Environment and the Human Prospect. David W. Orr (10th Anniversary Edition, 2004, Island)
Sustainability On Campus: Stories and Strategies for Change. Edited by Peggy F. Barlett & Geoffrey W. Chase (2004, MIT).
Making Sustainability Work: Best Practices in Managing and Measuring Corporate Social, Environmental, and Economic Impacts. Marc J. Epstein (2008, Greenleaf).
The Sustainability Revolution: Portrait of a Paradigm Shift. Andres R. Edwards (2005, New Society).
Last Child in the Woods: Saving Our Children from Nature-Deficit Disorder. Richard Louv (2006, Algonquin Books).
Blessed Unrest: How the Largest Social Movement in History is Restoring Grace, Justice, and Beauty to the World. Paul Hawken (2007, Penguin).
The Earth Charter in Action: Toward a Sustainable World. Edited by Peter Blaze Corcoran, Mirian Vilela & Alide Roerink (2005, KIT).
Household Detective: Protecting Your Children from Toxins at Home. (2000, Children's Health Environmental Coalition)
Books Available for Environmental Education with Children:
The Man Who Planted Trees. Jean Giono (2005, Chelsea Green)
The Greening Book: Being a Friend to Planet Earth [& Teacher's Guide]. Ellen Sabin (2008, Watering Can Press)
Sustainability Literacy & Culture Assessment
In an effort to gauge our campus community's literacy and culture with respect to sustainability, UofL began rigorously assessing students, faculty, and staff during the 2021-22 academic year. The UofL Sustainability Council collaborated with student interns and Institutional Research to develop, pre-test (summer 2021), and fully launch an annual assessment of a representative sample of the entire UofL community. In 2022, the survey was sent to a total of 5,971 faculty, staff, and students on 1/19/22 and the survey closed on 2/2/22.
Find a copy of our Sustainability Literacy & Culture Assessment instrument here
Summer 2021 Pilot results are available as a summary report here.
Spring 2022 results are available via online dashboard here, or as a summary report here.
One of the Council's Sustainability Assessment Interns, Klemmer Nicodemus, applied for a grant during the summer of 2021 for funding to develop and pre-test a sustainability literacy & culture survey instrument which he wrote with the help of Graduate Assistant James Joyce and UofL's Assistant to the Provost for Sustainability Initiatives, Dr. Justin Mog. The development and pretesting of the survey entailed many iterations of writing questions, providing carefully articulated answers, and administering the survey both in-person and online to fellow students and faculty/staff.
The instrument was intended to ask two types of questions - those which would test one's literacy and those which would test one's habits and opinions (culture) of campus sustainability. The survey was written to have an even split of questions related to literacy and culture - as to gather the most information about our campus community as possible with minimal surveying.
There were three main administration phases of this assessment, creating an assessment that will be re-administered every year for the foreseeable future that will measure growth and change of campus sustainability literacy and culture. The first phase of testing was essential to the development of the instrument we use today; this was when the student intern held in-person meetings with peers and faculty in which he was able to see the reactions that the respondent had to the questions - were the questions too complex, too simple, or just not relevant? Through engaging peers and mentors, the student intern was able to receive a range of opinions on the instrument and how it may bet develop.
The next phase came in the form of an online pre-test in which a sample audience of 200 university community members were sent the survey and encouraged to provide constructive feedback. UofL faculty and staff were under-sampled and students over-sampled to compensate for the response tendencies during summer semesters. This pre-test had a 10% response rate and was used to further refine the instrument and prepare it to be sent to a larger, more representative population of the University community. In the spring of 2022, the instrument was administered to nearly 30 times the sample size as the pre-test - reaching a much wider audience and pulling a more representative measure of the campus' sustainability literacy and culture! The team behind this survey were extremely excited at the opportunity to quantify our campus community's knowledge, attitudes, and behaviors with respect to sustainability; and to help improve future sustainability initiatives by addressing the greatest needs identified in this assessment.
Video: Why is Education for Sustainability so important? Why focus on the higher education sector?
What is desperately needed are faculty and administrators who provide role models of integrity, care, thoughtfulness, and institutions that are capable of embodying ideals wholly and completely in all of their operations. - David Orr "What is Education for?"