Ratings & Rankings
Measuring UofL's progress in sustainability and how we compare to other institutions.
STARS
The primary tool used by the University of Louisville to measure our progress in sustainability is the STARS (Sustainability Tracking, Assessment & Rating System) framework developed by AASHE (the Association for the Advancement of Sustainability in Higher Education). As a Charter Participant in STARS, UofL was the first school in the region -- and the 10th in the nation -- to achieve a STARS rating; UofL was the first school in Kentucky to achieve a STARS Gold rating; and we have always enjoyed the highest STARS rating in Kentucky (though, in June 2017, we were delighted to see that Berea College achieved an equal rating). Check out the map of STARS schools.
As part of our university-wide strategic plan, UofL seeks to progressively improve our overall STARS rating and our score across all sections of the framework. We are staying true to that goal.
UofL wins gold in sustainability (UofL News, March 4, 2016)
University of Louisville Wins Gold In Global Sustainability Standard (WFPL 89.3fm, March 5, 2016)
UofL notches a higher sustainability score (Courier-Journal, March 7, 2016)
UofL achieves STARS Gold sustainability rating (The Louisville Cardinal, March 20, 2016)
AUDIO: Justin Mog discusses UofL's Gold rating for sustainability - highest among Kentucky schools (starts 10:00) (UofL Today with Mark Hebert, 93.9 FM The Ville, April 18, 2016) Video.
UofL reached a major milestone in our on-going efforts to advance sustainability by achieving a new STARS Gold rating (65.19%)
on February 13, 2016. This represents a 6.9 point increase from our February 2013 STARS Silver rating (58.29%), and a significant improvement from our first rating in January 2011 of STARS Silver (50.11%). Our 2016 rating documents that, on top of what we were already doing well, we've seen significant improvement in many areas and we are doing some truly innovative things to advance sustainability. We earned four new Innovation Credits for our initiatives around:
We also saw noteworthy progress in:
The following table summarizes our progress:
Year
STARS
Rating
Overall
Score
Academics
Operations
Planning
& Admin.
Engagement
Innovation
Credits
2016
Gold
65.19%
56.45%
43.41%
72.59%
88.90%
4
2013
Silver
58.29%
51.95%
31.60%
79.31%
n/a
4
2011
Silver
50.11%
54.59%
28.54%
67.21%
n/a
n/a
View the full details of UofL's 2016 STARS report here.
As the report makes clear, there is important work before us to not only maintain our standing, but to push ahead towards STARS Platinum (at 85%). For instance, we would do well to continue working on:
Anyone can view finalized STARS reports from individual schools online without creating an AASHE Account. There are some additional, very useful features within the STARS Dashboard for doing research into STARS reports (particularly the Content Display function which allows you to filter down to specific credits and/or particular types of schools, etc.) that you can only access with an AASHE Account, which is available to all UofL employees and students through our institutional AASHE membership. (It's also worth noting that with such an account you can also access all of the great materials, reports, discussion groups, etc. available in AASHE's Resource Center). Here's how:
Step 1: If you do not have an AASHE Account, UofL students and employees may create one here (simply using your @louisville.edu email address).
Step 2: To access the full range of features on the STARS Dashboard, log-in using your email address and password associated with your AASHE Account. If you have lost or forgotten your AASHE password, you may re-set it here.
See Video and Photos of our 2011 STARS press conference, and the following stories:
UofL's sustainability efforts rank silver, gold (UofL Today)
University of Louisville earns 'silver' sustainability rating (The Courier-Journal)
U of L recognized for achievements in going green (WHAS-TV)
UofL gets recognition for green efforts (WAVE 3 TV)
Sustainability Awards
UofL has achieved Tree Campus USA status from the Arbor Day Foundation for every year since 2010.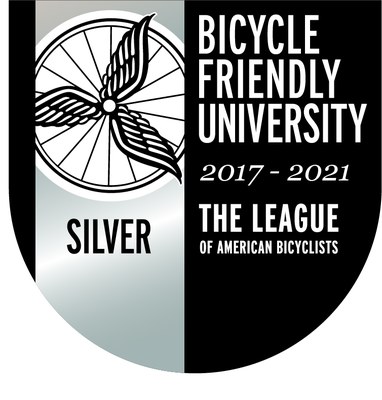 UofL again named 'Bicycle Friendly University' (UofL News, Nov. 9, 2017)
In November 2017, UofL received official designation from the League of American Bicyclists as a Silver-level Bicycle Friendly University. The designation is valid for four years 2017-2021.
This marked the second time UofL achieved such a designation. In 2013, UofL was named the most bicycle-friendly university in Kentucky, as the first in the Commonwealth to achieve a Silver rating in the League's Bicycle Friendly University program!
As of Fall 2017, there were a total of 182 Bicycle Friendly Universities in 45 states, including five in Kentucky:
1. University of Louisville - Silver (renewed Fall 2017)
2. University of Kentucky - Silver (as of Fall 2014)
3. Morehead State University - Silver (as of Fall 2016)
4. Transylvania University - Bronze (as of Fall 2015)
5. Western Kentucky University - Bronze (as of Fall 2013)
Other Sustainability Rankings
UofL also participates in other surveys which give schools relative rankings in environmental performance or sustainability, such as: