Model Green Rooms
UofL is retrofitting various rooms around campus to serve as models for sustainable design principles.
UofL's model Green Dorm Room opened in Louisville Hall (Room 605) in Fall 2009 but was first developed as a challenge to 10 students in Jamie Horwitz's Spring 2009 Sustainable Architecture course. At the request of Russ Barnett, director of UofL's Kentucky Institute for the Environment and Sustainable Development, these students developed their own designs for the room as a model of sustainable living on campus. Turning the students' conceptual design into an actual dorm room was made possible with a $5,000 grant from Arts and Sciences Dean Blaine Hudson.
Video: Green Living in UofL's Residence Halls
Certain features distinguish this room from any other on campus. These differences are much more sustainable and aesthetically pleasing:
The floors are made of bamboo, a faster-growing and more sustainable alternative than wood, synthetic flooring or carpet.
One wall is covered in clay, a natural building material which has insulating properties, improves air quality by catching dust, and is easier to repair and maintain.
Large windows let in plenty of natural light, eliminating the need to use electric lights during the day.
A ceiling fan helps regulate temperatures more efficiently.
A low-flow showerhead and toilet, as well as an aerator on the faucet, has cut water use by about 50 percent.
With high ceilings, large windows and the several distinctive "green" characteristics, the room is more like a modern, innovative, energy efficient living space than a typical dorm. Residents of the model green dorm room participate actively in the Housing and university-wide sustainability committees, act as sustainability leaders within the community, and welcome tours to demonstrate sustainable living principles.
In 2010, UofL Interior Architecture students were again engaged in the next model green room design challenge: The conference room for Dean of the College of Arts & Sciences in Gardiner Hall, Room 230. The project moved to implementation during the Fall of 2010, with support from the Kentuckiana Chapter of Hazardous Materials Managers (KCHMM) who dedicated UofL's model green conference room during a special ceremony at KCHMM's annual gathering on November 3rd, 2010. The room features:
Natural day-lighting from a large window, eliminating the need to use electric lights during the day.
A ceiling fan to help regulate temperatures more efficiently.
Modular carpet tiles which allow for easy replacement of only the worn portions, without having to dispose of the entire carpet.
High-efficiency florescent lights with motion sensors for automatic shut off when the room is unoccupied.
Durable ceiling tiles made of recycled plastic which will not sag or stain like conventional ceiling tiles.
Green certified furnishings.
Model Green Office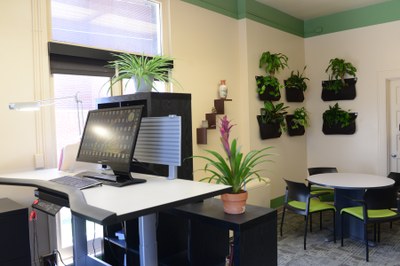 In the spring of 2012, the Department of Urban & Public Affairs launched an effort to perform a low-cost, green renovation on the Department Chair's office based on designs from another class of UofL Interior Architecture students. The final renovation includes the following green elements in Room 100 of the Urban Studies Institute (426 W. Bloom St.):
Treadmill desk
Shades and window tinting for energy conservation
Hypoallergenic carpet made from at least 35% recycled fibers
Wooly pockets (wall hanging plants)
Paint containing no volatile organic compounds (VOC)
Repurposed furniture
Eliminated large, energy-hog refrigerator
Read More: Professor gets green office makeover (UofL Today, Aug. 20, 2013)
The Sustainability Council hopes to see this program expand to include more Model Green Spaces around campus - from labs to classrooms to clinics!
Residence Hall Green Renovations
UofL has participated in the Campus Conservation Nationals (CCN), or an internal UofL Ecolympics each spring since 2012. During this residence hall energy-reduction competition, each UofL hall tracks their electricity usage, competing against each other to maximize conservation over a three-week period.

In 2014, a new prize was added: The winning UofL hall would undergo a green renovation the following summer, with specific projects selected by the residents. During the 2014 competition from January 27th to March 3rd, UofL residents were able to reduce electricity usage by 2.9% overall, but residents of Threlkeld Hall posted an 8.9% reduction to become the champions.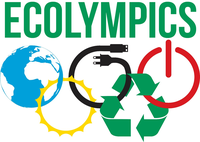 On March 27th, 2014, Threlkeld Hall residents gathered for a facilitated town hall meeting to discuss sustainability improvements they would like to see. Many great ideas were generated and over the summer of 2014, thanks to a $5000 donation from the newly affiliated student housing project, The Grove, the following improvements were made as a part of the green renovation:
The flooring in the lobby was changed from well-worn, stained carpet to a luxury vinyl tile. Not only is the tile better looking, but it is also a longer-wearing product that requires only water to clean – no chemicals or other harsh products.
The worn furniture in the common area was replaced with a product that uses a sustainable fabric and is designed to be modular so that, if a part of a chair is broken, we can replace just that part easily rather than having to dispose of the entire chair.
All of the old, inefficient washing machines were replaced with newer, more efficient models.
Leaky showerheads were replaced throughout the building. Although the existing showerheads were low-flow fixtures, they frequently leaked and were replaced with a more durable low-flow fixture.
Threlkeld Hall won the competition again in 2015! From February 9th to March 1st, 2015, residents reduced energy consumption by 2.3% in spite of extreme cold and snow which cancelled classes several days and kept residents stuck inside. As grand champions, the residents of Threlkeld received a special in-house dinner catered by Mark's Feed Store on April 16th. During the meal, residents brainstormed possible projects to be part of their Green Renovation award. Thanks to the resident's energy-conscious actions, over the summer of 2015, the Threlkeld lobby got a brand new water bottle filling station and bikeshare system.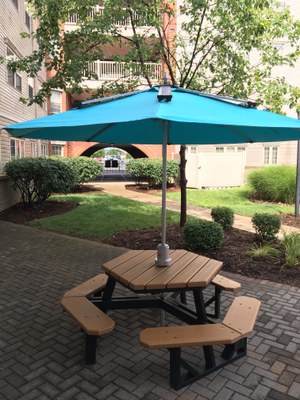 After the Spring 2016 Ecolympics, the Green Renovation prize went to Bettie Johnson Hall for being the UofL hall to reduce the most(27.5%)! In the summer of 2016, the hall received a brand new PowerSol umbrella - a solar charging station for mobile devices located at a common table in the courtyard! Features include:
Solar-powered mobile device charging as fast as a wall outlet, day or night.
Three weather-proofed USB ports charge up to three mobile devices simultaneously.
Durable, marine-grade umbrella protects users from harmful UV rays.
Intelligent sensing acknowledges when mobile device is fully charged.
LED display indicates how much solar energy is currently stored for charging needs.