Shauntrice Martin wins UofL's Sustainability Award for her support of food justice
The University of Louisville Sustainability Council is thrilled to present our 2021 Josh Smith Memorial Sustainability Award to Shauntrice Martin for her inspiring work for food justice. This Award, which includes a $250 cash prize funded by donors, is granted each year to a community member who has given back to UofL's Sustainability Initiatives in honor of an alumni, Josh Smith, who died unexpectedly on June 17, 2015 after giving so much of his time to UofL's Community Composting project. We honored Shauntrice with the Award at a brief ceremony during UofL's annual Farm To Table Dinner on October 14, 2021 (see photos, watch video).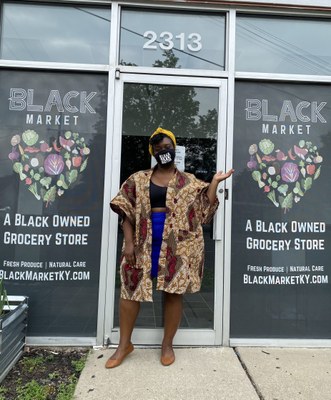 Shauntrice is an abolitionist in Kentucky. She is the director and the founder of #FeedTheWest, a food justice program sponsored by Black Lives Matter Louisville and Change Today Change Tomorrow. After studying food apartheid in Belize, Mexico, Trinidad & Tobago, and across the U.S., she started Black Market KY to address food insecurity in Louisville's west end. Shauntrice has earned numerous other awards including Louisville Forty Under 40, The Coalition of Black Excellence Impact Award, and Silicon Valley Business Journal Woman of Influence.
Her contributions to UofL's Sustainability efforts are myriad:
Shauntrice has been inspiring us since she was a student here back in the mid-2000s in Pan-African Studies and Communication where she somehow found time to serve as president of the Association of Black Students and the Louisville Debate Society, while being historian for the Society of Porter Scholars, and a C.O.N.E.C.T. peer mentor to help support and build community among her fellow Black students.
Then in 2019, she came back to UofL to serve as a Development Officer.
Over the last couple years, she has offered our students, staff & faculty the opportunity to put in dozens of hours of community service through the Feed The West initiative.
We've been inspired to address fresh food insecurity in our Cardinal Cupboard food pantry and our Garden Commons by her Bok Choy Project for Root Cause Research Center demonstrating the ubiquity of food apartheid in Louisville, documenting the inferiority of produce sections in Kroger stores in black and brown neighborhoods.
She inspired us all last November by speaking at our Sustainability Roundtable about her food justice work, which reached even more of the Cardinal family when it was highlighted in the Homegrown cover article in the December 2020 UofL Magazine.
Then this past June, she knocked our socks off as one of the panelists for our "Becoming Antiracist" university-wide conversation.
Nominations for this annual award can be made by anyone. Nominations are due by October 1st via email to the UofL Sustainability Engagement Committee Chair, Dr. Brian Barnes, at brian.barnes@louisville.edu. Nominees cannot be enrolled UofL students or current employees.