New curricula in diversity, equity and social justice prepare UofL students for complex challenges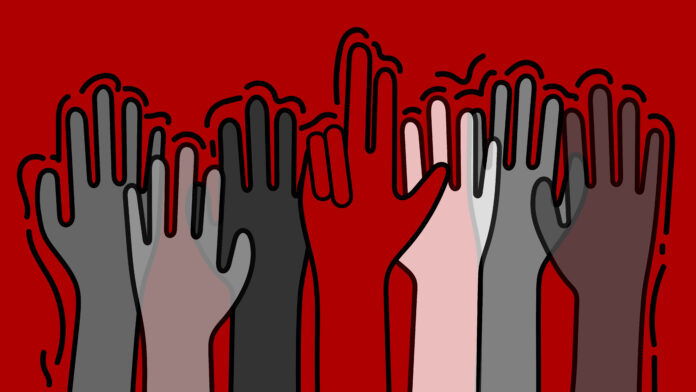 A new track within UofL's Bachelor of Science in Organizational Leadership and Learning program promises students the knowledge and skill set to implement positive change in the workplace and community. The College of Education and Human Development track – called Diversity, Inclusion, Community Engagement and Equity – is one of several new offerings focused on empowering students in the topics of diversity, equity and social justice.
Another new course – Power, Oppression and Liberation, taught by Trinidad Jackson, faculty member and inaugural assistant dean for Culture and Liberation in the School of Public Health and Information Sciences – is offered as part of a new track in Social Justice and Health Equity. Ashley Barnette, a junior majoring in public health with a focus in religious studies, is a member of the inaugural class.
"I love the class and feel anyone going to the university should study how oppression works in society. No matter who you are, you are facing some sort of oppression under the systems we have," she said.
In the class, Jackson and co-instructor Tanisha Howard engage students in exploring white dominance in education, identifying missing perspectives and then deliberating over aspects of education philosophies.
"It is not enough just to learn about power, oppression and liberation—they must translate that knowledge into critical social action. As our collective critical consciousness has transformed over the semester, students are concluding the course by organizing efforts that aim to facilitate justice-oriented learning environments for students across the state," Jackson said.
Monica Wendel, chair of the SPHIS Department of Health Promotion and Behavioral Sciences and associate dean of Public Health Practice, helped lead the school in forming the new Social Justice and Health Equity track. She says although social justice and health equity have historically been implicit in public health training and practice, "given the current state of our world, as well as the evolution of the discipline, it is time to make social justice and health equity the explicit focus — it is why we do what we do."
She says making advances in social justice gets at the root causes of health inequity. And, although it will take time, Wendel points out that increased racial and social equity will yield advances in health equity across a myriad of risk factors, health conditions, outcomes and mortality.
The courses in the curriculum are designed to intertwine critical thinking and socio-political development of students, while at the same time building practical skills around strategic communication, community organizing, resource mobilization and social justice practices in public health. In addition, the school's activists-in-residence provide hands-on experiential learning opportunities in their capstones to exercise these new skills.
Recently, the Doctor of Philosophy in Public Health Sciences with a specialization in Health Promotion & Behavioral Sciences curriculum was revised to center on social justice and health equity. SPHIS also is in the process of changing its Master of Public Health concentration in Health Promotion and Behavioral Sciences to take on the same focus; the new curriculum will be implemented in Fall 2022.
Other new UofL offerings with a similar theme include a track in Diversity and Inequality within the Bachelor of Arts in Sociology; a concentration in Diversity Management and Leadership in the Master of Public Administration; and an undergraduate minor in Peace, Justice and Conflict Transformation. All of these are available through the College of Arts and Sciences, which also offers a graduate certificate in Diversity Literacy. The College of Education and Human Development is in the process of restructuring its established concentration in Policy and Equity within the Master of Arts in Higher Education Administration.
For Barnette, although it is a little late in her academic trajectory to take all the new courses in the Social Justice and Health Equity track, she says taking classes like these are never a waste to a student's flight plan or time.
"These are long-overdue. I think every major has an opportunity to have a social justice track, and it is needed in every aspect of life," Barnette said. "I think it is great that UofL is leading in these opportunities for students."
Source: New curricula in diversity, equity and social justice prepare UofL students for complex challenges (UofL News, Dec. 1, 2021)