UofL students leading food recovery efforts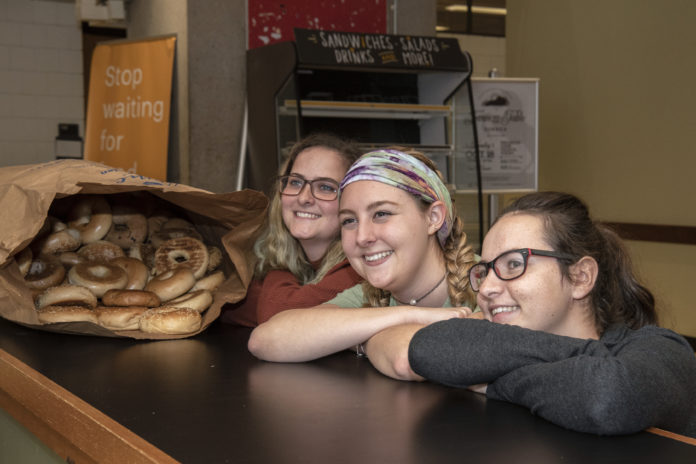 Inspired by the Sustainability Council's EcoReps program, students Erin Kurtz and Henny Ransdell are leading an effort to donate the University of Louisville's leftover food to local food banks and shelters.
Erin, 22, is a senior who will graduate in December. Her double major is in anthropology and sustainability, and she has worked as the university's Zero Waste intern for the UofL Sustainability Council since fall 2017. Henny, 19, is a sophomore who majors in anthropology and sociology and has been the sustainability office's communications intern since fall 2017.
They recently founded a Food Recovery Network chapter at the University of Louisville, making it the second chapter in the state. The national Food Recovery Network (FRN) is a student-led effort with 230 chapters nationwide aimed at combating hunger and food waste. Bellarmine University started Kentucky's first FRN chapter in 2014 and has donated more than 10,000 pounds of food.
"We are so thrilled to have UofL join the national movement to transform food waste into social justice," said Justin Mog, UofL's assistant to the provost for sustainability. "It is exactly these kinds of efforts which we had always dreamed would grow out of our Sustainability Internship program and our new sustainability major. I'm so proud of all the hard work Erin and Henny have put into this and delighted to welcome Erin in December as the very first sustainability alum at UofL."
Erin and Henny were joined recently by 20-year-old junior Melissa Sternberg, who transferred from Bellarmine University, where she was already involved in its FRN chapter. Melissa is also a sustainability major and is the sustainability assistant in the housing office.
The students are dedicated to environmentalism and social change. When Brian Barnes, a philosophy professor who runs the EcoReps program, brought a student from Bellarmine to UofL to talk about the FRN, Erin and Henny wanted to get involved. They soon became partners and friends.
"Recovering unsold food and delivering it to those who need it not only fulfills a need in the community, it keeps food waste out of landfills," Erin said. "Sustainability is as much about social issues as it is about environmentalism."
So far this year, the students have recovered more than 1,000 pounds of food and delivered it to St. Vincent de Paul or Wayside Christian Mission. For the most part, the food has consisted of bagels, pastries and salads from Einstein's, but leftover fresh mushrooms and potatoes from summer orientation events were also donated by Aramark, UofL's dining services contractor. The students will train anyone who wants to participate using FRN training materials.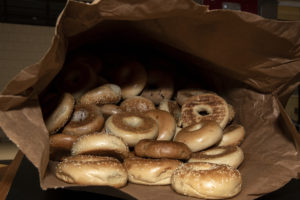 "We get a text from Einstein's letting us know they have food for us to take," Henny said. "One of us goes to get it. We package it in paper lawn waste bags because they are not plastic and they are big. We weigh it and just drive it over. Sometimes we're busy, but we do our best. We are always looking for more volunteers."
Among other things, affiliating with the FRN will help the students formalize the process with rules that ensure food safety and track progress.
Erin and Henny have recently secured a space for a food pantry on Belknap Campus (tentatively to be located in the Student Activities Center) for students, staff and faculty. The pantry, expected to open later this semester, will be in addition to the Sustainability Council's Free Store in Unitas Tower.
Their project is in line with research conducted by Sara Goldrick-Rab, UofL's 2018 Grawemeyer Award winner in education. Goldrick-Rab's 2016 book, "Paying the Price: College Costs, Financial Aid and the Betrayal of the American Dream," discusses the soaring costs of higher education that often results in food and housing insecurity for students.
Look for the students at this year's Sustainability Fair Oct. 24 in the Humanities Quad for more information. The fair is part of UofL's annual celebration of Sustainability Week, with more events found here.
For more information about sustainability at the University of Louisville, click here.
Source: UofL students leading food recovery efforts (UofL News, Oct. 15, 2018)