Cards Commuter Challenge 2021
When

Aug 30, 2021 12:00 AM

to


Sep 30, 2021 11:55 PM

Where

University-wide

Contact Name
Justin Mog
Contact Phone

502-852-8575

Add event to calendar

vCal




iCal
Cards Commuter Challenge 2021
August 30 - September 30, 2021. University-wide
UofL wants you to save money, burn calories, put an end to pollution, and win prizes…all by simply choosing to get to campus in a new way! Record your trips on Cardinal Directions throughout the Cards Commuter Challenge (August 30 - September 30) and each week you'll have the chance to win one of the $50 weekly prizes or the $250 Grand Prize! One student and one faculty/staff member will win each week! Any trip by means other than driving alone increases your chances of winning!

Step 1: Join the Challenge online!
Step 2: Challenge yourself (and your friends!) to get to campus differently!
Try these life-affirming alternatives to the expense, road-rage, pollution, and parking hassles of driving alone:
BUS: Ride any TARC route free with UofL ID (just swipe your card as you board - any time, anywhere).
CARDpool: Organize your own carpool with friends, family, colleagues, or classmates; or find rides & offer rides online through Cardinal Directions.
WALK, SKATE, or BIKE: Get your workout just by getting where you need to go under your own power! If you don't have your own bike, borrow one free from UofL Bikeshare or join LouVelo citywide bikeshare for half-price with your @louisville.edu address ($7.50/month gets you unlimited trips of up to one hour without any additional charges).
VANPOOL: Employees can get in on a vanpool, get your ride home guaranteed, or enter to win additional monthly prizes with Every Commute Counts.
SKIP THE COMMUTE: Work or study from home for maximum convenience, savings, and safety!
* NOTE: Though certainly better than driving, getting around via lazy, coal-powered electric scooters does not qualify for this Challenge. Skip the dirty electricity and use your muscles to qualify!
Explore all of UofL's Sustainable Transportation Options.

Step 3: Log your trips to win!
The only way to be in the running for prizes is to log your commute trips online with Cardinal Directions.
Connect with us, trash-talk, and post about your commute on Facebook here.

And be sure to join us for our weekly themed events to get you engaged in the Challenge! The schedule is:
Tuesday, Aug. 31st, 11am - HRtalks Wellness Workshop: Active Transportation
Tuesday, Sept. 7th & Wednesday, Sept. 8th, 1-3pm
Join us at the SAC Clocktower for some free Bike Blender Smoothies and Bike Tune-ups!
Friday, Sept. 17th - Carpool Challenge
We challenge you to find a carpool…to school, work, restaurants, movies, etc....on 9/17. Use hashtag #CardsCommuterChallenge to share your Carpool Karaoke moments!
Thursday, Sept. 23rd, 5pm - Historic Walking Tour (meet at Humanities Quad)
UofL Archivist and local historian, Tom Owen, will provide an educational walking tour of Belknap Campus and Old Louisville. Come talk a walk with us and learn from a UofL staff member (and former Metro Council Chair) who continues to walk, bike, take the bus, and carpool everywhere he goes!
Wednesday, Sept. 29th, 5pm - Skating Night (meet at Blue Lot across from The Ville Grill at 3rd & Brandeis)
Skateboard, rollerblade, or roller skate on over to the lot across from The Ville Grill for a fun night of skating together! We'll end the roll with ice cream at Comfy Cow!
FINAL RESULTS:
We are thrilled with our collective accomplishments: From Aug. 30 – Sept. 30, participants logged 1,094 trips on foot, bike, bus, or car/vanpool, covering 11,246 miles, preventing 8,137 pounds of carbon pollution, saving $5,505, & burning 101,600 calories.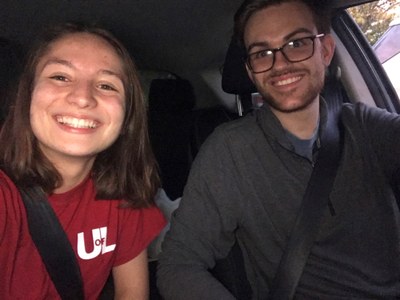 Congratulations go out to ULPD staff, Jessica Stivers, who logged the most trips (71 bus rides!) and to our Grand Prize $250 raffle winner: Valeryia Kukharskaya, a REACH student assistant from the Class of 2023, who logged 416 miles over 32 carpool commutes, preventing 169 pounds of carbon pollution.
Here are the final standings:
Rank Name Trips
1 Jessica Stivers 71
2 Jolisha Hines 66
3 Justin Mog 64
4 Tonja Craig 62
5 M. Ruth Dike 61
6 Rachel Singel 50
7 Sophia Anner 46
8 Laura Frost 46
9 Tara McKinley 44
10 Cathy Carter 44
11 Joanna Mroczkowska 42
12 Shirley Wu 42
13 Michael Purcell 40
14 Sonja Faul 40
15 Steffany Gayton 34
16 Elizabeth Riesser 34
17 Ryan Lloyd 34
18 Valeryia Kukharskaya 32
19 Alicia Fox 32
20 Chad White 32
21 Wyn Garfinkle Plymesser 25
22 Pat Smith 22
23 Tammy Green 18
24 David Hoetker 17
25 Nicholas Richter 16
26 Jim Warner 15
27 Avery Kolers 13
28 Victoria Levy 12
29 Ethan Johnson 8
30 Lenore Hoyt 6
31 Rachel Roberts 6
32 Darla Samuelsen 4
33 Jill Wegenast 4
34 Chelsea Giovacchino 4
35 Amber Willetts 2
36 Kathy Moore 2
37 Jelayna Williams 2
38 Sean Roth Roth 2