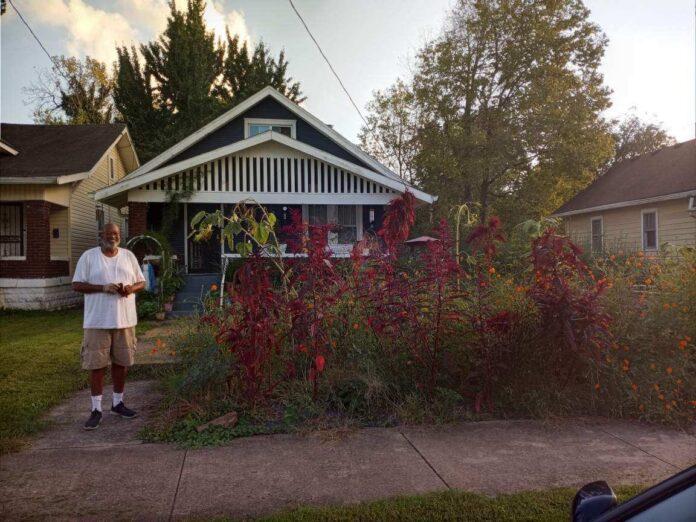 There are times when something as simple as an object, or in this case a location, can make a difference in someone's life. For Thomas Wayne Edison '86, '88, a UofL graduate and now UofL professor, the city of Louisville has made a difference in his life. With his creation of the only home butterfly waystation in the west end of Louisville, Edison aims to make a difference for the city, too.
Edison is a Louisville native, and currently lives in his childhood home. He has spent about 25 years away from Louisville but came back because of his love for the city. Before his jobs took him elsewhere, Edison went to UofL, receiving both his bachelor's and master's degree.
Now, Edison is an associate professor in the Department of Classical and Modern Languages, teaching a diverse group of classes, including Spanish.
"I love teaching, it's exciting," Edison said. "I've been fortunate to come here, and two of the professors I had when I was a graduate student are still here and are now my colleagues."
Outside of teaching, Edison has a strong passion for gardening. After buying the available lot next to his home, he created different green spaces for different purposes.
"The backyard is flowers and vegetables," Edison said. "I've put in a Koi pond this past spring, and I have a high tunnel, which is a type of greenhouse without heat."
Though gardening is Edison's passion, there is a purpose behind his gardening.
"I'm putting in this infrastructure because I want to create something in west Louisville that shows that people can do things to help the environment," Edison said. "A garden can produce items that you don't need to go to the grocery store to buy; you can be self-sufficient."
With the idea of helping the environment in mind, Edison also created a certified monarch butterfly waystation, which is an area of land that provides resources necessary for monarchs to produce successive generations and sustain their migration.
"I decided to dedicate my front yard to make it a butterfly waystation, so monarch butterflies can get nourishment as they travel from the northern hemisphere back to Mexico," Edison said.
A butterfly waystation has a different look than a normal front yard. The main plant that will be present in a waystation is the milkweed plant, which can grow to an average height of five feet tall. At first glance, Edison's front yard might look like negligence, but there's an environmental purpose.
"Right now, within the city, the regulation is that if your lawn is taller than 18 inches you can get cited," Edison said. "If you have a monarch waystation, those flowers could be 10 feet tall. Regulations in the city have not caught up to environmental movements that we are doing."
In addition to educating those who pass by his front yard, Edison hopes to encourage people to use their green space in an environmentally beneficial way, like creating butterfly waystations. He plans to help by providing the plants necessary for a waystation.
"If I buy two plants to propagate now, a couple years down the road I would have enough to give to anyone who wants to make a waystation," Edison said. "That's a way to create environmental stewardship within our community."
Edison is an environmental steward himself, involved in multiple gardening groups. These groups, like the Urban Agriculture Coalition, are all aimed at making an environmental impact in Louisville.
Though he has high hopes for the future of his home garden and waystation, Edison has already impacted UofL with his gardening passion. The tranquility garden, located on the northwest corner of Stevenson Hall, has been a steppingstone for students to get involved with gardening and has allowed Edison to combine two of his favorite things, UofL and gardening.
"There are organizations on campus for those who feel like gardening is their passion," Edison said. "I encourage those who are interested to look around because there are always opportunities and a need for people who are interested."
Source: UofL alum creates butterfly waystation to educate the community about efforts that improve the environment (UofL News, Nov. 5, 2021)