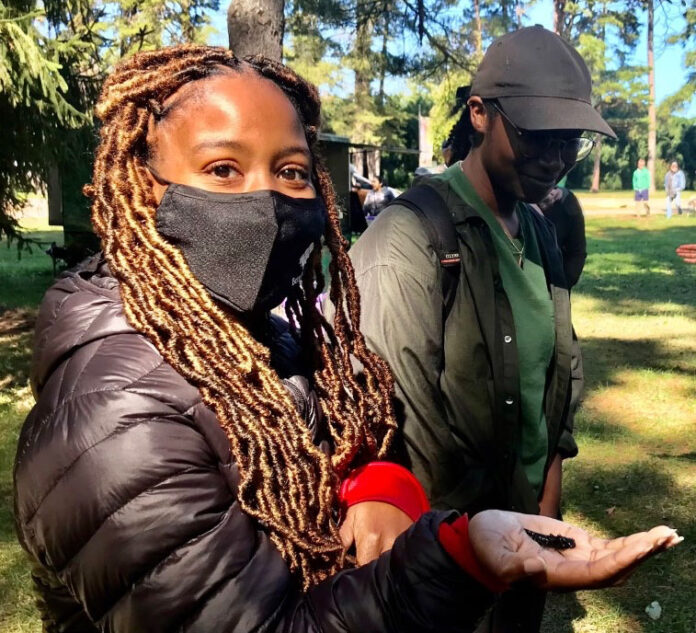 Kenyatta Johnson '20 moved to Louisville her senior year of high school, and for most young adults, a change during that time can be a tough adjustment. For Johnson, she didn't feel like Louisville was home.
She started her undergraduate studies away from Louisville, but eventually came back, deciding to see if and how UofL could align with her goals of working with the environment in some capacity. When she began college, geology was her major of choice, but it wasn't offered at UofL.
"When I transferred to UofL, I had to change my major to fit something I was interested in," said Johnson. "I went to the geography and geosciences department, and that allowed me to see the human side of geology."
That "human side of geology" became ingrained in the rest of Johnson's time at UofL. During college, Johnson had the opportunity to travel abroad four times, to Iceland, Trinidad and Tobago, Nepal and Belize, meeting and working with people who shared her passion.
Each trip came with a different "human side" of the environmental studies she was studying. In Iceland, Johnson completed a writing internship with others and became a contributor to a book titled "Cultural Insight to Reykjavik, Iceland..
In Trinidad and Tobago, Johnson traveled with a group from the Pan-African studies department and did an independent study on hydrocarbons. In Nepal, she focused on geosciences and geohazard. Her final abroad trip to Belize allowed her to facilitate an environmental education lesson plan for local high schoolers.
"The first time I studied abroad with a geography internship, I found more passion for the idea of representation in this industry and how humans impact the environment and earth," said Johnson. "UofL helped me a lot with traveling and studying abroad."
Just like in college, Johnson is still exploring what this vast field can provide for her and others. As a field ambassador for Bernheim Arboretum and Research Forest, a position that was created for Johnson, some of her work includes increasing the diversity, inclusion and outreach for the organization.
"What I do is try to help reconnect and connect young adults and members of underserved communities, specifically communities of color, to explore nature and Bernheim," said Johnson. "I also want to encourage them to consider green jobs in order to diversify this field. By working at Bernheim, I'm helping to show young adults and children that there can be representation within this type of field."
Being allowed to show her passion to those who may look like her is just one way Johnson is impacting Bernheim. Her hope is that people also look toward roles like her and recognize that they can be financially feasible and welcoming.
"There are a lot of people and communities not working in this area because they don't feel it's welcoming or they don't see people like them doing the same work," Johnson said. "It's important that people realize they can do green and environmental jobs, and those positions are just as acceptable as any other job."
Johnson notes UofL provided the outlets and organizations she needed to thrive. One such organization was TRIO, a program that helps students who are low-income, first-generation, or students with disabilities achieve a bachelor's degree.
"It was through TRIO that I actually started to appreciate the campus, the city and the college community," said Johnson. "I had so many resources, whether it be social, academic, or financial. TRIO helped me with the study abroad programs. I give a lot of credit to TRIO because the staff was really passionate about seeing everyone succeed."
In addition to being a part of TRIO, Johnson credits her level of preparation to professors within her department. The opportunities to study abroad was no doubt impactful, but it took some specific courses to help Johnson with that next step into the professional world.
"In my senior year, my thesis professor was really helpful for preparing me for a career in environment and research," said Johnson. "We as students learn that research would be a part of our field, but it wasn't until that class that I truly felt confident and prepared professionally to conduct research." 
Source: UofL alum carves her own path to increase diversity and inclusion in the environmental field (UofL News, Feb. 11, 2022)
See Also: Interview: UofL Alum, Kenyetta Johnson on exposing youth of color to nature (Sustainability Now!, Forward Radio, Jan. 3, 2022)