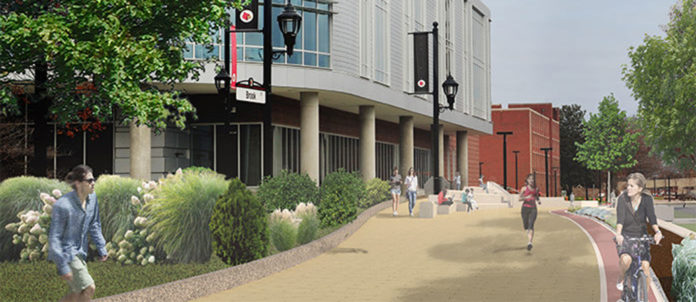 The University of Louisville is closing a road that led traffic into the heart of its campus, replacing the space with a pedestrian plaza.
Phase two of the Belknap Academic Building Pedestrian Plaza started in March, and it includes the closing of Brook Street at University Boulevard on the southwest side of campus.
From spring through the summer, construction crews will work on replacing the roadway with light-reflecting paving to decrease the summer heat effect, designated bicycle and walking pathways, new greenspace and landscaping, and sustainability features aimed at mitigating storm water from campus.
"Brook Street is a roadway that has been a city road for a long time," said UofL senior architect John Stratton. "This allows us to turn this area into a public space that's safer for students.
"This project will connect the Student Activities Center to the new academic building to Houchens and other student services, so we're constantly looking to grow the university and build a campus that is pedestrian friendly."
Previously, a portion of the Houchens Building that served as the old postal office was torn down. The main entrance of Houchens, located on the west side of the building, will be closed; the existing north entrance will serve as the temporary main entrance.
Vehicle traffic will be re-routed to the new Service Drive, located alongside the railroad tracks.
The Belknap Academic Building, which opened in August 2018, is the newest classroom space on campus. The four-story, $80-million facility is located between Shumaker Research Building and Lutz Hall. At 165,000-square feet, it houses more than 50 classrooms, laboratories, seminar rooms and group study areas.
"We have the opportunity to turn this into a more pedestrian-friendly space," Stratton said. "We are improving the safety in this area. The campus has grown. The classroom building has brought many new students to campus in this area."