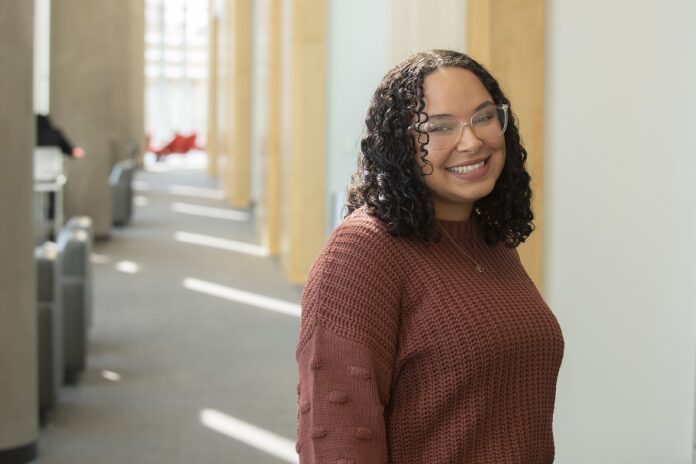 Olivia Yeager decorated two caps for her trip across the commencement stage Dec. 16 to receive her bachelor's of science degree in sociology.
One is filled with sunflowers that remind her to always look toward the light and be grateful.
The other is a tribute to her late father, Andre Yeager, a pizza chef who died of cancer-related complications when she was just 4 years old. She remembers vividly the day he traveled miles to be there on her first day of preschool and help her get on the bus.
"There's a photo of my first day of preschool … he was sick and he made the trip to get on the school bus on the first day of preschool and I remember I had my little backpack and my little dress and he was helping me up the steps and that's a memory that I will never forget, I will never forget that," she said.
The message from Andre, a diehard UofL sports fan who never finished high school, is etched on her heart and soul: Get an education. If she forgets, their last name, written in his handwriting from a nametag used the day she was born, is tattooed on her arm.
The first-generation college student (her mother graduated high school but did not pursue higher education) grew up in the Pleasure Ridge Park area of Louisville, sharing a small apartment with her two younger half-brothers, her mother and her mother's boyfriend. 
"We were on food stamps, the government insurance, all those things. Clothes at Goodwill, hand-me-downs, nothing new," she said. "There was weeks where we really didn't have a lot to eat so it was really ramen noodles, cereal, water. … Dry cereal, sometimes not even some milk to go with it." 
Yeager knew she wanted a different life, that she needed to break the cycle of "generational poverty" before she even knew what that meant. 
"What's interesting is that I've always had that feeling deep-down, but here at the University of Louisville I've taken so many courses on social stratification and problems and things like that and that's what they reiterate, is that if you don't make that change, you're going to be in that same situation," she said. "So it's interesting that I knew that even before I was educated on the issue."
Graduating from PRP high school in 2019, Yeager earned a full-tuition scholarship to the University of Kentucky and set off for Lexington. She was already ahead of the game, having taken AP and dual-credit classes. 
When the Covid-19 pandemic forced her to return to Louisville the following spring, she realized she didn't want to leave. 
"Even before I started my college career I had connections here at the University of Louisville, so it just felt like home to me," she said.
She transferred, but a lack of financial resources and the pandemic stress had taken its toll. Yeager withdrew, took a semester off to work and save money, then started again, encouraged by her boyfriend, Jacob Sams, and his family.
This semester, she was president of the Sociology Student Association. She credits and thanks professors and fellow students in the sociology and political science departments (she minored in political science) for always supporting her.
"The people around you, they want you to succeed and they make that known at all, at all times," she said.
Additionally, UofL recognizes the struggles of low-income students, she said.
"If you are low income like I grew up, there's great resources for you here like the 
(Commonwealth Credit Union) Cardinal Cupboard
 — you can go get food that you need no questions asked. There's also the 
Free Store
 if you can't afford clothes, you can go and get what you need," she said.
She took as many classes as she could every semester, determined to finish as soon as she could. Despite taking time off, she's graduating a semester earlier than originally scheduled.
Perhaps most important, she didn't limit her education to the classroom. Of mixed race descent, she joined the UofL Black Student Union and explored a part of her heritage that had been lost to her when her father died.
"As a woman of color, I didn't really grow up around people who looked like me," said Yeager, 21, who identified as white as a child. 
The friendships she made helped her educate herself about … herself.
"The main thing is that I am who I am, and I should be proud of who I am," she said, "regardless of whether or not people look at me or perceive me as 'oh, she's white' or 'oh, she's Black' or 'oh, she's mixed.' I'm just who I am and I can be both at the same time and be equally as inclusive and important in each role."
Yeager plans to work in the human resources field following graduation and hopes to then pursue a master's degree. Her 18-year-old half-brother, William White, earned a full-tuition scholarship to UofL and began this fall. Her youngest half-brother, Ben White, 12, has also set his sights high and wants to be a meteorologist at NASA. "We are trying to help him the best that we can to get him to that," she said.