UofL startup's bourbon sustainability tech wins pitch competition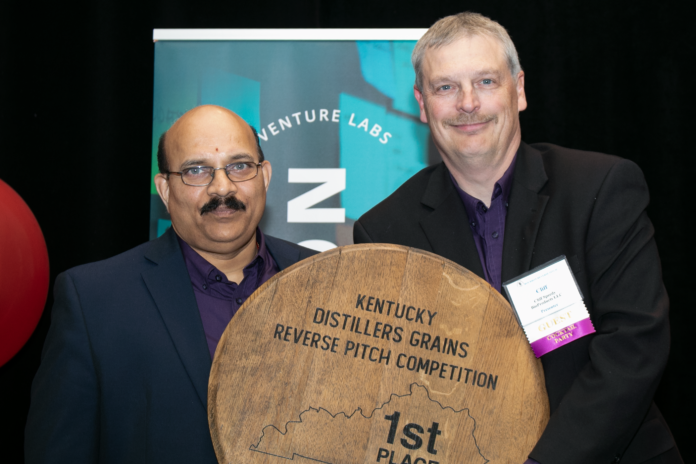 A University of Louisville research-backed startup has beaten teams from around the country in a pitch competition aimed at bourbon sustainability.
The startup, BioProducts LLC, took the top spot at the Distillers Grains Reverse Pitch competition, backed by the Kentucky Cabinet for Economic Development and others.
The goal was to find innovative solutions for using distilling byproducts. According to the competition website, about 10 gallons of byproduct are generated for every gallon of bourbon produced.
BioProducts is built around UofL-patented technology that gives those distillery byproducts new life, for example, as a low-calorie sugar substitute and as specialized activated carbon suitable for a number of high-performance applications, particularly lithium ion batteries. 
For the pitch competition, BioProducts teamed with Louisville-based C&I Engineering Inc. to present how the integrated technology could be applied at different types and sizes of distilleries. And, said UofL's Jagannadh Satyavolu, who helped invent the technology and later founded the company, how this process could create activated carbon that's more cost-effective and sustainable.
"Using this technology — invented in Kentucky and for one of Kentucky's signature industries — we can take this otherwise waste material and turn it into a game-changer," he said. "This could help make distilling more sustainable, reduce pollution and much more."
The technology was invented by Satyavolu's UofL Conn Center for Renewable Energy Research biomass conversion and biofuels group in collaboration with Michael Nantz and his team in the UofL chemistry department.
BioProducts holds an exclusive license through UofL Innovation and Commercialization, which handles intellectual property resulting from university research and helps forge partnerships with companies for commercialization. 
"We feel we are the right team at the right time to solve this challenge," said Cliff Speedy, C&I Engineering's executive director of projects.
Because they won the pitch competition, the BioProducts team received an engraved bourbon barrel lid and will now present to 500-some distillery professionals at the James B. Beam Institute Industry Conference in March 2022.
Source:UofL startup's bourbon sustainability tech wins pitch competition(UofL News, Nov. 10, 2021)