InfoTech
UofL's Information Technology unit is dedicated to reducing waste and increasing efficiency.
UofL's Information Technology (IT) unit has a vision "to create an environment of empowerment, efficiency, and effectiveness" and a goal to "reduce our environmental footprint through more sustainable practices." IT works with the Sustainability Council to pursue sustainability goals across campus through a variety of means.
It is easy to feel overwhelmed by environmental issues. Carbon dioxide emissions, energy use, landfills — there is so much to consider. When it comes to your computer, however, it really is easy to make a positive difference for the environment, and for your budget. The average computer uses more than $100 of energy each year. You can cut this figure in half with just a few mouse clicks, saving money and lowering your carbon footprint. The best part is, your computer already knows how to do it.
Power Management
The key to cutting your computer's energy use in half is called power management. These are settings that put your computer into a low-power sleep mode after a certain amount of idle time. Touching your mouse or keyboard then wakes the computer back up when you need to use it. Climate Savers Computing recommends settings that put the monitor and hard drive to sleep after 15 minutes, and the system into standby mode after 30 minutes. This is all it takes to cut your computer's energy use in half! Your computer already has power management settings—they just need to be turned on. Click the Climate Savers Computing power management instructions for step-by-step instructions to enable these settings on your PC or Mac.
Need help?
Contact the UofL IT Help-Desk at 852-7997 or helpdesk (at) louisville.edu if you need help turning on your computer's power management settings. There is also plenty of great information about green computing on the Climate Savers Computing website.
Did You Know?
Turning on power management settings on 1,000 computers saves $50,000 and prevents nearly 300 tons of CO2 emissions from entering the atmosphere every year. This is the equivalent of taking 600 cars off the road!
You can help conserve by setting your computer to automatically "sleep" or "hibernate" when idle (under Control Panel > Power Options).
What can you do?
Enable the power management settings on your computer. IT recommends setting the monitor to enter power-saving mode after no more than 5 minutes of inactivity, and set the hard drive to turn off after no more than 30 minutes of inactivity.
Set your computer into hibernation or sleep mode when you are going to be away from it for awhile. This saves a particularly large amount of power on desktop models.
Always shut down your computer when you're done and certainly when you leave for weekends or vacations. Any system updates can be made when you reboot.
Turn off any peripheral devices (printers, monitors, speakers, scanners, etc.) when you're done. The simplest way is to plug them all into one power strip and click it off once the computer shuts down. "Smart" power strips are available which automatically shut off power to peripherals when the computer shuts down.
Do not run a screen saver. They waste energy. Instead, set your monitor to enter power-saving mode when idle.
Buy an Energy Star-qualified computer. The next time you need a new computer, look for the Energy Star symbol. Climate Savers Computing estimates the cost difference at less than $30 per computer, and you will recoup that expense in energy savings. Learn more at www.energystar.gov.
UofL's Green Purchasing Policy recommends EPEAT-certified computers. Computers with this certification not only meet Energy Star qualifications, but also use fewer toxic materials, have longer product life spans, and feature more eco-friendly recycling options when it is time to upgrade to a new machine. Visit www.epeat.net for more information.
Videoconferencing & Digital Collaboration
A great way to cut down on paper use and transportation costs is to take advantage of the many digital tools available for sharing files and for holding virtual meetings.
IT has helped save roughly 172kW of power in the data center. This equates to a reduction in our carbon footprint of 909 tons.
A variety of energy savings improvements have been implemented in the Miller IT data center since it was assessed for both power and cooling in 2010. The study recommended that no further IT equipment should be added to the data center until the outstanding power and cooling issues were addressed. Through a combination of physical improvements and server virtualization, IT has been able to recover enough power to upgrade the research computing cluster and implement the new email and archiving infrastructure. With these efforts, we estimate that we will have sufficient power for future planned systems in the MITC data center.
Recent improvements include:
Used server virtualization to combine many physical servers into a fewer number of virtual servers, dramatically reducing the overall number of servers. More than 800 physical servers have been virtualized and replaced with 24 physical servers, significantly reducing power, floor space and cooling requirements.
Decommissioned 30 unused servers and storage devices, resulting in power reduction of 36kW. IT has a policy of reusing or recycling all used servers, racks, printers and network equipment.
Multiple disk subsystem models have been replaced by three IBM XIV storage technology to replace 3-6 year old disk arrays, saving an estimated 8 kW of power.
The Tape Library in MedCenter 3 was decommissioned June 2013, saving 4 kW, freeing up floor space, and reducing cooling requirements.
Hardware Replacement: IBM p595, p570, 12 blade servers being replaced by 4 IBM p740 servers saving 14 kW of Power.
Power density has increased from 500-1000 W per rack, to well over 10 kW; some expecting up to 20 kW per rack.
IT has maintained its average power load while increasing the number of servers three-fold.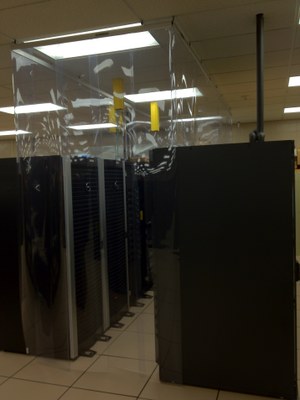 Efficient Cold Aisle Containment system at MITC Data Center
Installed cold aisle containment to optimize use of cold air for cooling of IT equipment only, rather than the whole room. This produces an energy savings of up to 20% in those contained areas, resulting in a savings of about 35kW.
Raised the operating temperature of the ambient air in the data center, for a savings of up to 36% in air conditioning usage and a savings of 41.76 kW.
Removed airflow obstructions under the floor whenever possible
Relocated perforated floor tiles to optimize airflow
Reduced the use of cable arms that restrict air flow in cabinets
Sealed cable openings in the floor
Sealed openings in the data center walls and ceiling to control air flow
Installed blanking panels in equipment racks to separate cool intake air from hot exhaust air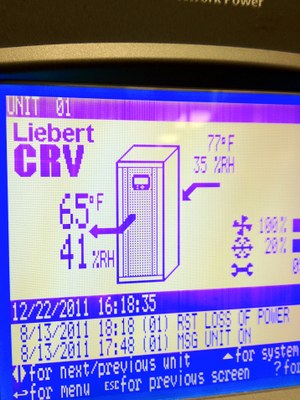 Energy-Savings Feedback Module at MITC Data Center
Added plenum extensions to warm air intakes on the computer room AC units
Implemented new high-density rack standard, including power monitors in the power strips
Implemented top-of-the-rack network switching and overhead cable trays to cut down on the amount of cabling required in the room
Networked computer room AC units to optimize and coordinate their actions
Used in-row cooling to target areas needing cooling
Shut off one computer room AC unit
Even though new systems continue to be introduced into the data center, through power capacity planning, virtualization, and implementation of best practices IT has been able to reduce the data center power needs by 24%. These changes have resulted in a reduction of facility cooling load by up to 77kW or 50%. The total energy savings to the University equates to roughly 172kW of power. This equates to a reduction in our carbon footprint of 909 tons.
IT also manages campus printing and seeks to reduce waste wherever possible. Learn more about our Green Printing Initiative. Recent changes have demonstrated the cost savings and environmental benefits of changing the way we print.
Digital Printing Accomplishments:
Zero persistent bio-accumulative toxic footprint
- Toner is non toxic and has a transfer rate nearly 100%
- No chemicals are needed for clean up
- No personal protective equipment is required, further reducing resource use
- No air or water abatement issues
Reduced paper consumption
- During Spring 2011, all Uniprint stations were switched to print double-sided by default
- A linear cost structure makes short runs economically feasible
- Shorter runs translate to less obsolete printed inventory and less waste
- Targeted communications are more effective
- Personalization leads recipient to electronic information
Streamlined production
- Soft proofing eliminates resource consumption
- Digital archiving reduces storage space
Consolidation Accomplishments
Merged Copy, Production Print, Poster Print and Copier Management Services
Eliminated internal competition
Closed Floyd Street printing plant
Matched capacity to need
We now accomplish as much or more work while consuming fewer resources
Outsourcing Accomplishments
Waste Reduction: Large, regulated industrial facilities are better equipped to handle hazardous materials
Inventory Control: Smaller inventory reduced VOC's (ink and solvents) and paper
Bottom line: Economy of scale and competitive bidding has lowered costs
IT's 2012 Report highlights a number of recent milestone for improved sustainability:
Continued to consolidate resource use and streamline power consumption and management, including identifying and implementing best practices in all data centers, and utilizing new technology to reduce hardware power requirements.
Took steps to maximize virtualization, a strategy that consolidates servers, reduces power consumption and increases reliability. More than 600 servers have now been virtualized and replaced with 14 physical servers, significantly reducing power, floor space and cooling requirements.
Maintained level power consumption while increasing the number of servers three-fold.
Increased power density in racks, reducing floor space requirements.
Replaced multiple storage units, standardizing, simplifying and saving approximately 8 kW of power.
Replaced Virtual Tape Library (disk subsystem for backups) with larger, energy-efficient systems, saving 4 kW of power.
Replaced enterprise servers with more energy-efficient models, saving 14 kW of power.
Replaced data center AC units to increase efficiency and extend useful life to 15-20 years.
Continued to reuse or recycle all used servers, racks, printers and network equipment.
Completed second phase of Every Card Counts, a program that allows the entry of student community engagement data into PeopleSoft screens. Students can now access engagement records through ULink.
Continued sustainable printing practices in-house, including recycling waste paper and trimming scraps, utilizing energy efficient equipment and recycling equipment at the end of use. Also encouraged customer use of sustainable printing within the Copier Management Program, including printing less, using both sides of paper and sharing print devices.
Developed sustainable printing practices policy with the Vice President of Finance, encouraging sustainable printing outside the Copier Management Program.
Continued to utilize new technology to reduce hardware power requirements in the university data centers.
Completed pilot testing of energy-saving power management solutions, and made recommendation for university-wide rollout.
Continued to recycle computer, data center, cabling and communications equipment, as well as printing machine parts and toner cartridges.
Increased workforce diversity further with the hiring of one African American employee and three Asian American employees; three of these new employees were female.
Continued to monitor the number of minority and female IT staff members participating in the IT sponsored leadership training and mentoring program. Four women and three men participated, including one Asian American employee.
Continued to ensure that IT training is ADA-compliant and accessible to all participants, and continued to provide and enhance the Virtual Private Network (VPN) to provide flexibility to accommodate special needs.
New Opportunities
IT is driven to pursue further improvements in our operations that will continue to reduce waste and resource consumption down that road. Opportunities we see on the horizon include:
Moving from desktop printing to shared devices in order to reduce energy consumption, waste from supplies and packaging, and total printing volume
Switch to EA Toner and Solid Ink technology which has a significantly lower mass in order to generate less waste while reducing the cost of color printing.
Adopt double-sided printing campus-wide. While this is currently encouraged as default, it is not mandated as such.
Adopt "toner saver" settings campus-wide. While this is currently set as default for most printers, it is not mandated.