Sustainability in Welcome Week 2020
Aug. 12th - 16th, 2020
The UofL Sustainability Council will welcome new students to campus with a variety of events designed to engage your passion! Events will include: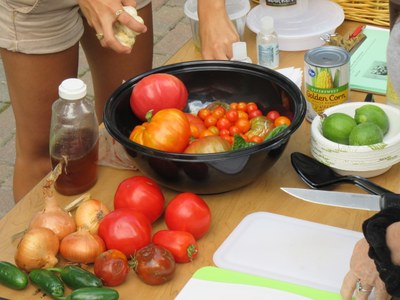 Wednesday, Aug. 12 – Friday, Aug. 14


Garden Commons Salsa Harvest


3:00 - 3:45pm
Garden Commons (southwest corner of Strickler Hall)
Stop by UofL's organic, student-run Garden Commons to sample some of the delicious fresh produce we've grown together over the summer and learn how you can get involved and learn how to grow your own food right here on campus! Sponsored by the UofL Sustainability Council and the Office of Health Promotion.
Thursday, Aug. 15
Garden Commons Workday
12pm-1pm
Garden Commons (SW corner of Strickler Hall)
Join us for our weekly group workdays in UofL's organic Garden Commons in its new location at the southwest corner of Strickler Hall, east of the Speed Art Museum Parking Garage, and across the walkway from  the Biology Department's

Korfhage Native Plant Garden

! Come learn (by doing) how to grow hyper-local, super-delicious vegetables, herbs, and fruits! Anyone can work in the garden any time, but we'll gather together weekly to harvest, weed, water, and plant. No prior experience necessary. Tools & gloves provided. Please bring drinking water & bags to harvest into! Wear a mask and practice physical distancing to keep everyone safe during the pandemic. The Garden Commons is open to participation any time from students, staff, faculty, and community members. Everyone who comes is welcome to share in the harvest! Connect with us and get all the details on our Facebook Page.

Saturday, Aug. 15
Cardinal Clues Scavenger Hunt
3:30 - 6pm
Come find the UofL Sustainability booth at the Garden Commons and you could win some fabulous prizes, including an ethically-sourced reusable UofL Sustainability mug!

Sunday, Aug. 16
UofL Community Composting Volunteer Day
Every Sunday noon-2pm (200 block of E. Bloom St. just one block north of Cardinal Blvd. between Brook and Floyd Streets)
Come help us turn "trash" into treasure as we manage UofL's volunteer-powered community composting operation. Dress to get dirty. Tools provided. Learn about worm composting and becoming a UofL EcoRep!
Sunday, Aug. 16


Louisville Sustainability Bike Tour


3:00 – 5:00pm meet up outside the SRC
Take a fun afternoon bike ride with the Student Cycling Coalition and UofL Sustainability Council! Explore your new community through the lens of environmental stewardship and social justice. Don't have a bike? Check one out from the SRC through UofL's Bikeshare Program or take a spin on a free LouVelo bike for the day. Check out our route here.