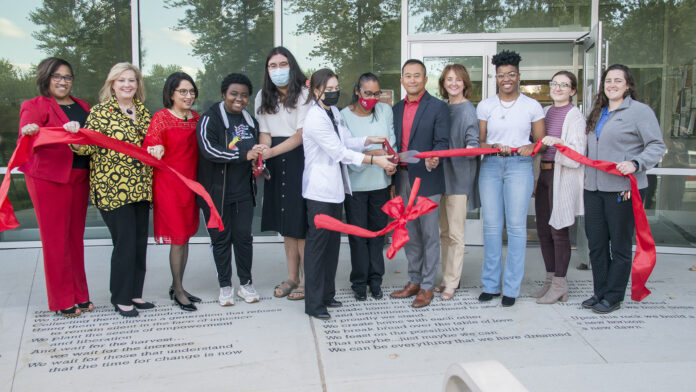 Students experience a warm, inclusive welcome at the University of Louisville's new Cultural and Equity Center, home to the Office of Diversity Education and Inclusive Excellence, Cultural Center, LGBT Center, Muhammad Ali Institute for Peace and Justice and Women's Center. 
Undergraduate student Edison Pleasants is part of the Society of Porter Scholars and Muhammad Ali Scholar Program and said she appreciates how the new space enhances cross-cultural interactions and educational opportunities.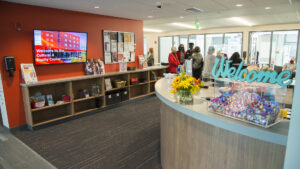 "As president of a student organization, we have a lot of incoming freshman trying to make connections on campus, and I always tell them to go to events held in the cultural center because they can meet lifelong friends," she said.
Students challenged university leadership to create a centralized home for the diversity centers. That challenge was met as plans included space within the new Belknap Residence Hall, which opened in August. Located on the first floor of the building, the Cultural and Equity Center provides a unified environment for the diversity centers, previously scattered throughout campus.
UofL President Neeli Bendapudi said the center represents one concrete action leading to change on campus as the university strives to become anti-racist and more inclusive and welcoming for the entire Cardinal community.
"The Cultural and Equity Center will help Cardinals build community across identities and provide programming that creates a sense of belonging – a key factor in eliminating bias and creating an appreciation for everyone because of our unique differences, rather than in spite of them," she said.
The university's first vice provost for diversity, Mordean Taylor-Archer, was a driving force to make the center a reality. Her work continued following retirement in 2019 through the Office of Diversity and Equity, under the leadership of V. Faye Jones, interim senior associate vice president.
"The Cultural and Equity Center is not only key to graduating students who are engaged citizens prepared for a diverse and global society, but it also is crucial to ensure social justice and fairness across identities," Jones said. 
The diversity centers together help fulfill the university's diversity, equity and inclusion strategic goals through many intentional initiatives. The efforts include unconscious bias training, coaching and mentoring, along with other services that support academic, personal and professional development for students and cultural experiences for employees.
"Since UofL is predominately a white institution, it is important that students know of resources available through this center," Pleasants said. "Diversity is essential for enhancing the college experience, and preparing students to engage with the world around them both now and in the future."
 Take a virtual tour of the Cultural and Equity Center here.