Workshop: Cool Weather Gardening
When
Sep 03, 2021
from

12:00 PM

to

01:00 PM

Where

Garden Commons

Contact Name
Grace Engelman
Contact Phone

502-514-6521

Add event to calendar

vCal




iCal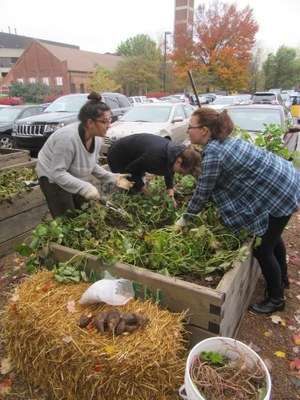 We kick-off our fall workshop series in UofL's organic Garden Commons with a focus on how to extend your growing season into the much more pleasant shoulder seasons when water, weed, and insect pressures wane.
Fall is an often overlooked gardening season, and we are here to help you take full advantage of it!
In fact, early September is the best time to rejuvenate your garden and make it produce vegetables through Christmas!
Planting cole crops in late summer allows them ample time to grow before the first frosts, but because they are so frost tolerant, they continue soaking up the sun's rays and continue growing, albeit slowly through December.
In fact, gardeners often have better luck growing fussy vegetables, like broccoli and cauliflower in fall than in spring because you don't have to worry as much about insect pests, weeds, or bolting.
And the cooler temperatures also make for sweeter and less bitter greens. Root vegetables are also perfect for fall gardening. You don't have to pick them before frost. Things like carrots can be left in the ground, mulched with straw or leaves, and dug as you need them.
In this workshop, we'll focus on frost tolerant plants, like cole crops and lettuces, and how to protect them. Broccoli, cauliflower, cabbage, kale, lettuces, carrots, turnips, rutabagas, and mustard greens are all varieties good for planting in fall. Other plants can be left in the garden over winter to be harvested in the spring, like onions and garlic.
Join us in the Garden Commons to learn (by doing) how to grow hyper-local, super-delicious vegetables, herbs, and fruits!
Anyone can work in the garden any time, but we gather together every Friday at noon throughout the fall (Aug. 20 - Dec. 10) to harvest, weed, water, plant, and learn. No prior experience necessary. Tools & gloves provided.
Upcoming special workshops include: 9/17 Gardening as Resistance; 10/15 Medicinal Plants; 10/29 Tree Planting (UofL Arbor Day); and 11/19 Wreathmaking.
The Garden Commons is open to participation any time from students, staff, faculty, and community members. Everyone who comes is welcome to share in the harvest!
Connect with us and get all the details on Facebook or Instagram.