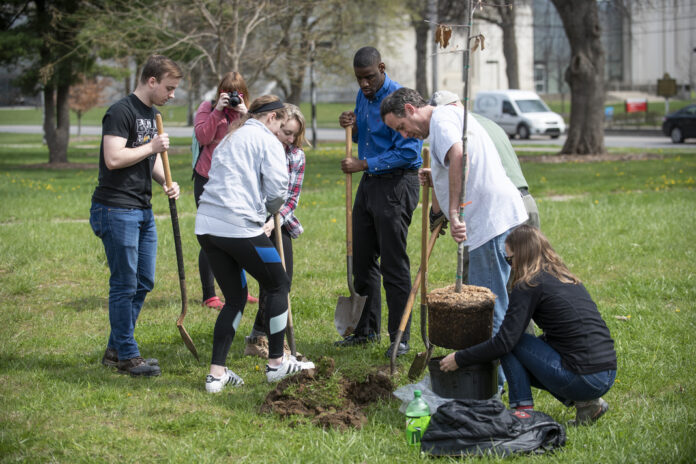 The University of Louisville Honors Program is part of a new nationwide collaborative aimed at training future leaders in the fields of food, climate and sustainable agriculture. 
The U.S. Department of Agriculture's National Institute of Food and Agriculture awarded the project a three-year, $750,000 grant. UofL is one of 14 universities participating in the collaboration, called "The Justice Challenge: Engaging Students in the Future of Food, Climate, and Sustainable Agriculture."  
"In this project, we are leveraging the nimble and innovative framework of honors education," said Joy L. Hart, executive director of UofL's Honors Program and co-chair of the project's advisory board. "We hope to empower students with systems thinking and career readiness tools essential for the future workforce in food, agriculture, natural resources and human sciences (FANH) fields." 
The project stemmed from the Student Opportunities Collaborative, a working group in the Association of Public and Land-grant Universities' (APLU) Council on Honors Education (CoHE). The collaborative's vision centered on connecting students from diverse institutions with top content experts and educators.   
"Our project is expected to result in many positive outcomes, but the ultimate hope is that honors participants will both widen and deepen their understanding, better equipping them to enter workplaces and civic life well positioned to address society's most pressing challenges," Hart said.   
More than 500 undergraduate students from across the country are expected to take part. 
Other participating institutions are the University of Toledo, Northern Illinois University, University of Montana, Virginia State University, California Lutheran University, Binghamton University—SUNY, Southern Illinois University, University of Illinois-Chicago and the University of Texas Rio Grande Valley, alongside host institutions South Dakota State University, Oklahoma State University, Texas A&M University and fellow ACC member Virginia Tech.  
UofL's 
Honors Program
, created in 1982 in the College of Arts & Sciences, now serves nearly 1,500 high-achieving students from all academic units across UofL. Each semester, UofL honors students enroll in a variety of honors courses and seminars, and more than 450 new students choose to participate in the program each year.