Inaugural Sustainability Award Honors Our Maple Maven, Dave Barker
Dave Barker leads maple tapping workshop in 2017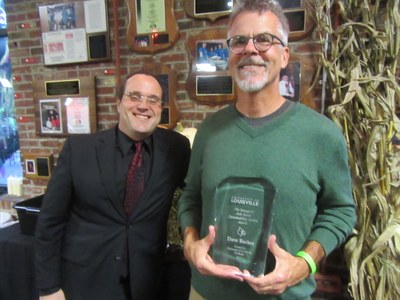 At the Farm-To-Table dinner on November 1st, 2017, the UofL Sustainability Council awarded the inaugural Josh Smith Memorial Sustainability Award to our friend and community partner, Dave Barker. Dave is a neighbor to UofL's Shelby campus and first approached us in 2014 to inquire about tapping some of our campus trees to make maple syrup at his home sugar shack. That initial, innocent inquiry has since blossomed into one of the most fun, visible, and dynamic Campus As A Living Lab for Sustainability projects at UofL.
Throughout the years, Dave has selflessly given of his time, tools, equipment, and muscle to help spread the word and his enthusiasm for tapping untapped resources and turning them into delicious sustenance. In the springs of 2016 and 2017, Dave worked intimately with Dr. Linda Fuselier and her team in the Biology department to integrate tree tapping into new Sustainable Community Engagement sections of BIOL 104 - Laboratory for Introduction to Biological Systems for non-science-majors. The students experimented with tapping trees on Belknap campus to gather sap for syrup, learn about the process, and study the environmental conditions that influence it.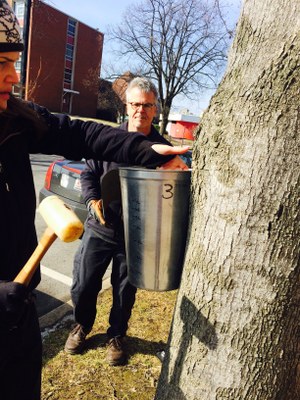 UofL's maple trees on campus had never been tapped before, so students, faculty and staff were involved in learning about a new urban agroforestry resource on campus.
Dave returned to campus multiple times to offer instruction both in the classroom and in co-curricular workshops and pancake parties that have helped spread the joy of maple sugaring in Kentucky!
We salute you, Dave Barker! ...And you can, too! Dave will be returning to campus in January to help us launch the 2018 tapping season! Come meet the man behind the maple magic, learn how to tap trees and volunteer to help us install and empty sap buckets around campus for a few short weeks in January!
Maple Tapping Workshop!
Friday, Jan. 12th, 2018 at 1pm, Garden Commons at the Cultural Center
Join us in UofL's sustainable garden to learn about the process of tapping maple trees and making maple syrup. Our workshop leader, David Barker, has been tapping trees and making his own syrup in Louisville for years. He will give a workshop on the process and then attendees will get to work with him as we install taps on our own maple trees located in the Garden Commons and around campus. Participants will have the opportunity to sign-up to volunteer to empty buckets as they fill throughout the coming weeks. Please dress warmly so we can work outside!
Some previous outcomes of the project are listed below:
EcoReps Lunch & Learn: Making Maple Syrup from UofL Trees (Pancake Party!) (Friday, April 21st, 2017 at Ekstrom Library). Photos.
A hands-on Maple Tapping Workshop for the whole campus community and general public was held Feb. 13th, 2017 at the Garden Commons.
Five things we learned about syrup during on-campus workshop (UofL News, Feb. 17, 2017)
UofL's campus serving as a sustainable living laboratory (UofL News, Feb. 3, 2017)
Poster presentation by instructor Melissa Michael and Dr. Justin Mog at the Oct. 2016 conference of the Association for the Advancement of Sustainability in Higher Education (AASHE) in Baltimore: Sticky Sustainability: Tapping Untapped Resources on Campus #ULMapleMadness. Photos. Video.
Maple tapping project a first for Belknap Campus trees (UofL News, April 25, 2016).
Melissa Michael describes class project to tap maple trees on campus for syrup (starts 23:08) (UofL Today with Mark Hebert, 93.9 FM The Ville, April 12, 2016). VIDEO (starts 20:08).