The sun shines bright on Kentucky: New solar facility to provide sustainable energy to UofL and other organizations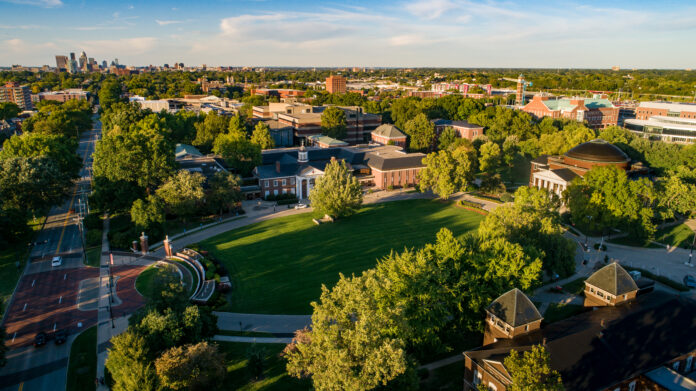 The University of Louisville is part of new power agreements between the Louisville Gas and Electric Company and Kentucky Utilities Company to provide more renewable energy options. As part of this ongoing commitment, the planned construction of a 125-megawatt solar facility in western Kentucky will provide renewable solar power to UofL, as well as the University of Kentucky, North American Stainless, Dow and The Chemours Company.
The five separate renewable power agreements were filed through the Kentucky Public Service Commission and were the result of each organization's participation in LG&E and KU's Green Tariff Option Three. Approved in 2019, the utilities' Green Tariff rolls the LG&E and KU Green Energy and Business Solar programs under one tariff, providing a third option for customers – the renewable power agreement. This offering is a part of LG&E and KU's continuing effort to enhance sustainable energy options for residential, commercial and industrial consumers within the commonwealth. It also fits into UofL's sustainability initiatives.
Recently named the most sustainable university in Kentucky, UofL aims to honor the Carbon Commitment re-signed by President Neeli Bendapudi in August by undertaking various sustainable initiatives. In additional to various institutional efforts, UofL Sustainability also offers a variety of events and learning opportunities for faculty, staff and students interested in furthering sustainability at the university.
"At the University of Louisville, we take seriously our commitment to integrate sustainability into everything we do," Bendapudi said. "Through this contract, more than 30% of the energy at our Belknap Campus and over 15% of UofL's total electricity demand will be met by solar power. This alone will cut our greenhouse gas emissions by another 9% from 2020 levels, advancing our efforts to shrink the university's carbon footprint to zero by 2050."
The 125-megawatt solar facility, expected to be operational in 2025, will be one of the largest solar projects undertaken in Kentucky. As a state largely associated with nonrenewable energy sources, the RPAs and construction of the new solar facility demonstrates a substantial commitment to clean, sustainable energy by some of the commonwealth's most prominent companies and educational institutions.
Based on the agreements, the utilities will supply UK with 44% of the facility's energy output, the biggest portion of its generation. North American Stainless will be served with 36% output from the facility. The University of Louisville and The Chemours Company will each be supplied with 8% of the generation. Dow, which has already committed to receiving 25% of the energy output from a separate facility as part of a 2020 RPA, will receive 4% of the output from this newest facility.
"UofL is committed to integrating sustainability into everything we do, from how we manage our facilities, finances and people to what we teach in the classroom and what we research in the lab," said Justin Mog, assistant to the provost for sustainability initiatives. "At UofL, everyone has a role to play in making our university more sustainable and tackling the existential threat posed by the global climate crisis."
Source: The sun shines bright on Kentucky: New solar facility to provide sustainable energy to UofL and other organizations (UofL News, Oct. 29, 2021)