Gray Street Farmers' Market - Thursdays 2023
When

Jun 01, 2023 10:30 AM

to


Oct 26, 2023 01:30 PM

Where

634 S Jackson St (NE corner of Jackson & Gray)

Contact Name
Melissa Schreck
Contact Phone

502-852-8781

Add event to calendar

vCal




iCal
Gray Street Farmers' Market
Thursdays, June 1 - October 26, 10:30am‒1:30pm
Health Sciences Center, 634 S Jackson St (NE corner of Jackson & Gray)
UofL's farmers' market is back to weekly operations in 2023!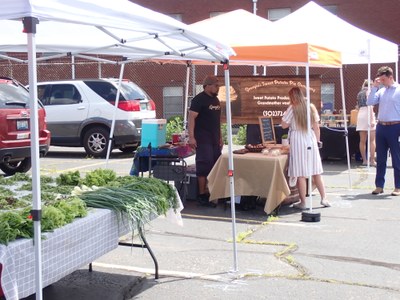 With many unique local vendors, you'll find the finest in farm-fresh products, including locally grown produce, coffee, desserts, crafts, grab-and-go lunch items, and more.
Cash, debit cards, SNAP benefits, and Senior Vouchers accepted!
Open rain or shine, lunch-time on Thursdays, June 1 - Oct. 26.
The market is operated by UofL's School of Public Health and Information Sciences, now in partnership with Catholic Charities' Common Earth Gardens, allowing the market to relocate to their 435 Building Parking Lot at Gray & Jackson (entrance on Jackson).
Access our collection of delicious recipes for local products.
The primary goal of the Gray Street Farmers Market is to increase access to fresh, locally grown food in the downtown area. Not only do we provide a pop-up weekly fresh food market, but we operate several special programs to expand access and make nutritious food more affordable. For more information on any of these programs, stop by our information booth or email farmersmarket@lousiville.edu:
Kentucky Double Dollars – This program makes healthy food more affordable for individuals who receive Supplemental Nutrition Assistance Program (SNAP) benefits. Using the SNAP Double Dollars is simple. Customers visit the GSFM information booth, decide how much they want to spend, and swipe their SNAP cards. The market then matches this amount and gives them wooden tokens to spend directly with GSFM vendors. We match spending by the SNAP customer up to $12 per week. Households can use the tokens to purchase fruits and vegetables.
FreshRx  -- The Gray Street Farmers Market began offering the FreshRx program in 2023 in partnership with the Community Farm Alliance. The program serves expectant moms who receive Medicaid. After signing up, FreshRx participants get $26 in tokens each week to purchase fresh fruits and vegetables from GSFM vendors.
Senior Farmers Market Nutrition Program (SrFMNP) -- Seniors (60+) who qualify are provided with $50 loaded onto a debit card to purchase fresh, unprocessed, locally grown fruits, honey, vegetables and herbs at approved farmers markets. Individuals can sign up for these benefits at Louisville's Neighborhood Places, the L&N Building on Broadway, and at the Nulu/Phoenix Hill Farmers Market. The Kentucky Department of Agriculture serves as the lead agency for SrFMNP.
Join our listserv and receive our weekly newsletter by sending an email to listserv@listserv.louisville.edu with the message "SUBSCRIBE GSFM (First_Name Last_Name)".
More info: GSFM website; contact Market Manager, Melissa Schreck, 502-852-8781, farmersmarket@louisville.edu; or follow on Facebook and Twitter.