It's Time to Reconcile, Focus and Direct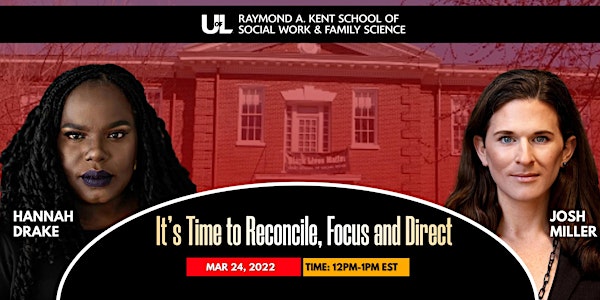 Zoom (join here)
Join us for the UofL Kent School's Social Work Month Keynote Address, presented by the Kent School Office of Diversity, Equity, and Inclusion.
Hear from artists Hannah L. Drake and Josh Miller of IDEAS xLab about the role of culturally-responsive and community-based efforts for sustaining anti-racism work.
Their talk will challenge us to reconcile the past, focus on the present, and direct our efforts to creating change for future generations.
We'll hear how artists and leaders can work together to improve health and wellbeing while changing our relationship to one another, and our understanding of what it takes to be anti-racist.
Hannah Drake (she/her) is a blogger, activist, public speaker, poet, author of 11 books, and the Chief Creative Officer at IDEAS xLab. She writes commentary on politics, feminism, and race and her work has been featured in Cosmopolitan Magazine. Her work has been recognized by Colin Kaepernick, Ava DuVernay and The New York Times, and she was selected as a Muhammad Ali Daughter of Greatness.Website: Instagram/Twitter - @hannahdrake628.
Josh Miller (he/him) is the co-founder + CEO of IDEAS xLab and the artist-owner of Josh Miller Ventures. He is an explorer, two-time TEDx speaker, a Leadership Arts Fellow and a CEO Action for Diversity & Inclusion signatory. Josh was selected for Business Equality Magazine's Forty LGBTQ+ Leaders under 40 (2020) and Louisville Business First's Forty under 40 (2018). His work has been featured by The New York Times, the Aspen Institute, Robert Wood Johnson Foundation, and Queer Kentucky.Website: Twitter: @j_jmiller IG: @joshmillerventures.