Get to know our newest MLK Scholars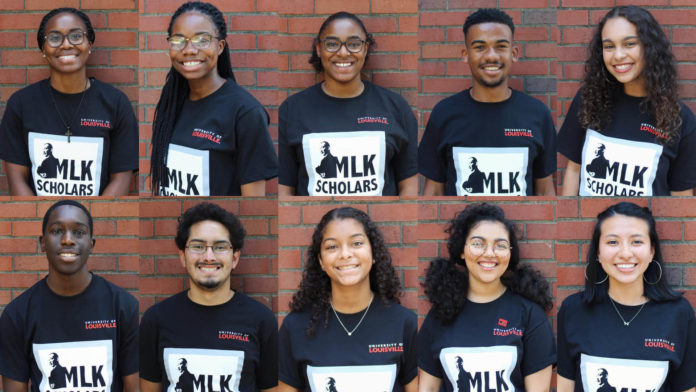 UofL's MLK Scholars program began in 2012 and welcomed its first cohort in August 2013. It is the newest program housed in the University Honors Program and functioned solely on volunteers until 2018, when it hired academic counselor Tamara Russell as its first full-time employee.
On MLK Day, the scholars will participate for the second time in a day of service, helping organizations throughout the community. In fact, this program was created specifically to focus on service and social justice, using Dr. King's work and the Civil Rights Movement as the primary points of study.
Second-year scholars travel to the cradle of the Civil Rights Movement – Selma, Birmingham, Montgomery and Memphis – to explore these historical areas firsthand and gain new insight from the era and how to apply it to their academic and professional endeavors.
"Students who apply to the program seek it out because of its focus on social justice issues and because they want to become social agents of change for their communities," Russell said. "Our program is young, but we have a lot of success stories, including students who have gone onto law school and to med school. Our students are doing big things."
Russell adds that while housed in the University Housing Program, the MLK Scholars Program could not thrive the way it does without support from the Cultural Center, Admissions, the Anne Braden Institute, Social Change, the Peace, Justice and Conflict Transformation Program and others.
The 2023 cohort
Arianna Moya Porras, from Louisville, is the founder and field organizer of the Latino and Hispanic Empowerment Organization, and is also the vice-president and co-founder of the Earth Activists and the Community Outreach Coordinator for her school's Immigration and Refugee Assistance Program. Arianna is also involved with organizations such as the Y Club, One Blue Wall Literary Magazine, Women in Science and Engineering, and the Muhammad Ali Center Council of Students, among others. She has dedicated over 120 hours of tutoring help to the Americana Community Center. Her peace/social justice area of interest is increasing Hispanic voter engagement and education. She majors in political science.
Marco Munoz, a bioengineering major from Louisville, is involved with a number of organizations, including the Latin American and Hispanic Student Organization, the Beta Club, the Science Olympiad, and all-county orchestra. He volunteers with the Americana Community Center, La Casita Community Center, the Kentucky Humane Society, and the Adelante Hispanic Achievers. His peace/social justice area of interest is removing barriers and increasing opportunities for immigrant students.
Exile Lukudu, from Louisville, a biology major, played soccer, viola and Conga drums at his high school, Butler. In his community, Exile has held leading roles in church plays and acts as a leader in his youth group. His peace/social justice area of interest is eliminating discrimination through cultural understanding and appreciation.
Rachel Burns, a sociology major from Lexington, can play eight instruments. Rachel serves as a mentor to orchestral students and as a camp counselor at the Wesley Woods Summer Camp for elementary and middle school students. She has helped organize Black History Pajama Night every year since 2012 at a local elementary school, and is a mentor for the Girls Guiding Girls Program. She is involved with clubs such as the Younglife Club, the Equity in Advanced Placement program, the History Club, and the Psychology Club. As a hostess at Texas Roadhouse, she translates for Spanish-speaking customers. Her peace/social justice area of interest is spreading awareness of police brutality against the African American community through education and art.
Olivia Ridgeway, from Versailles, double-majors in political science and Pan-African studies. She has served as a moderator for the Chamber of Commerce Political Forums, has interned for the Amy McGrath for Congress Campaign, has coordinated and hosted the Versailles Mayor Debate, created the Random Acts of Kindness Club, and interned for the Spark Community Café. Olivia has been involved in many other organizations, including the NIA African American Girls Alliance Club, the Film Club, the Woodford Student Leadership Council, and the Central Kentucky Youth Orchestra. Her peace/social justice area of interest is combatting homelessness through sustainable housing and food programs.
Camila Perez, from Bowling Green, is a chemistry major who served as an officer of the Science Club and is a member of the National BETA Club, the Spanish National Honors Society, the Spirit Club, and the Future Healthcare Professionals in high school. She was also a varsity member of the track and field team. Camila has helped organized a Walk for Water, raising money for drinking wells in impoverished countries, and has volunteered with the Salvation Army and United Way. Her peace/social justice area of interest is cultivating cultural literacy and decrease hiring discrimination.
Louisville native Nyah Smith, a bioengineering major, played for her high school girls basketball while tutoring middle school students through the Cabbage Patch and B-Elite Mentoring Programs. Nyah has also developed and implemented a study skills enrichment program. Additionally, Nyah was a member of the Black Student Union, the Fellowship of Christian Athletes, and has participated in the 2018 National Youth Leadership Program, focusing on Medicine. Her peace/social justice area of interest is improving education for Black students to overcome social, economic, and political oppression.
Afi Tagnedji from Todome, Togo, is majoring in biochemistry. She was the head of surgery within her school's chapter of the Future Physicians of America Club, as well as president of her Student Body Council and captain of both the Rifle Team and the Lady Raiders Soccer team. She has served on the Jefferson County Superintendent Advisory Council and the Academic team, as well as on the Navy Junior Reserve Officer Training Corps. In her community, Afi has volunteered for the Youth Service Center, as a peer tutor, and for the Student Leadership Team Planning Committee. Her peace/social justice area of interest is affordable healthcare.
Louisville native Sadie Finley serves as a Youth Development Specialist at Saint Vincent dePaul Family Success Center, where she helps low-income and homeless students with homework. In her community, she volunteers extensively with the Jefferson County Public Schools' Diversity, Equity, and Poverty Committee. Her roles include camp counselor at the Girls Excelling in Math and Science program, STEM-based Camp Invention, and the Summer Literacy Program at St. Vincent dePaul. Sadie is also a member of YPAS concert choir and guitar ensemble, the Black Student Union, the Crimson Scholars, and the Kiwanis Key Club. Sadie's peace/social justice area of interest is minority youth education and support.
Louisville native Gordon Rowe III majors in finance with a minor in political science. In high school, he held numerous leadership roles, including president of his senior class, treasurer of his junior class, President of the Black Student Union, and Student Ambassador for two years. He also works as a Kids Club Attendant through the YMCA, is a member of the Muhammad Ali Council of Students, the Future Business Leaders of America, the John Schnatter Economics Program, and the YMCA Black Achievers. In his community, Gordon has volunteered with numerous neighborhood cleanups and served at Family Scholar House and Hotel Louisville. His peace/social justice area of interest is empowering Black citizens in West Louisville educationally and economically.
Source: Get to know our newest MLK Scholars (UofL News, Jan. 17, 2020)