Get Involved!
There are many ways for UofL students, faculty, staff, and friends to contribute to our sustainability efforts - from individual action to research to group activities.
Sustainability Community Canoe Trip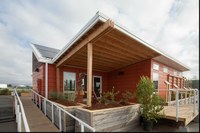 UofL's 2013 Solar Decathlon team of students designed and built the fully-powered Phoenix House! Read more about the team's success in the national competition here!
Courses: Consider weaving sustainability themes into the classes you teach or offering new courses focused on sustainability. Our Green Threads program can help you get started.
Research: Because sustainability concerns are interdisciplinary and universal, there's no end to the possibilities for you and your students. Whether your focus is off-campus or helping make UofL a living laboratory of sustainability, our Research page will give you some resources and ideas to get started.
Lead By Example: Faculty are mentors to the next generation. Students learn not only from your lectures and assignments but by observing your actions. "Walk the talk" by following these Green Tips for more sustainable behaviors!
All students, faculty, and staff are welcome to get involved in UofL's Sustainability Council at any time!
Updated meeting schedules for the Council and all of its Committees are available here. All are welcome at all meetings. New members can come to any meeting and introduce yourself. We look forward to seeing you!