American Council on Education leader to keynote 8th Annual UofL Engaged Scholarship Symposium
By Jill Scoggins -
Advance registration required by March 21 for free event
Symposium theme: "Making a Difference through University-Community Collaborations"
Outstanding Community Engagement Awards also to be presented
Providing information on ways community and university partners can connect and collaborate will be the focus of the 8th Annual Engaged Scholarship Symposium at the University of Louisville.
Sponsored by UofL's Office of Community Engagement, the event will be held Friday, March 24, from 9 a.m. to 3:30 p.m. in Chao Auditorium, Ekstrom Library, 2215 S. Third St. Admission is free and lunch will be provided. The event is open to the public with advance registration by March 21 at the link here.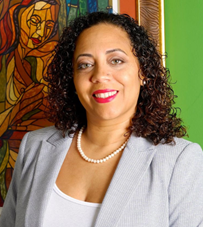 Keynoting the event will be Marisol Morales, executive director of the Carnegie Elective Classifications for the American Council on Education (ACE). Her presentation will address "More AMOR Please: Accountability and Organizational Results (AMOR) for Community Engagement Practitioners and Leaders."
Managed by ACE, the elective classification program is sponsored by the Carnegie Foundation for the Advancement of Teaching. The Carnegie Foundation's Elective Classification for Community Engagement is a way for colleges and universities to develop and gain recognition for institutionalized community engagement. Campuses must apply for the classification, and UofL is one of only 79 universities in the United States to earn recognition by the Carnegie Foundation as both a Research 1 and a Community Engaged university.
UofL also will present its Outstanding Community Engagement Award. The award recognizes outstanding community engagement service such as volunteerism, outreach, partnerships, curricular engagement, and community-based research. Four awards will be presented to a faculty member, a staff member, a student group and a community partner. 
The symposium's concurrent sessions will help community partners such as individuals, organizations, associations, non-profits and governmental agencies learn more about connecting with university programs, groups, faculty, staff and students to collaborate on shared initiatives.
Among the 24 concurrent sessions will be: "Raising Hope Kentucky: A Nursing and Agriculture Collaboration to Address Farmer Mental Health," "The Resilient Families Project @ Wayside's Hotel Louisville – Back-Pocket Strategies for Building Resilience, Mindfulness & Happiness in At-Risk Adults," "School-Based Depression Prevention: Considering Sociocultural Factors," "Bridging the Gap to Access to Quality Education for Healthcare Providers in Latin America," "Navigating the Road to Ignite Excellence in a Post-Pandemic World" and "Emerging Generations Z & A: The Youth Development Phenomenon."
Some of the concurrent session presenters are recipients of the Office of Community Engagment Gheens Foundation Mini Grants, and several other grant recipients also will attend. The mini grants provide funding for a variety of projects in collaboration with underrepresented communities such as west and south Louisville, the immigrant and refugee community, rural communities and the international community.
The mini grant recipients, all from UofL, are:
Nicole Adams, College of Education & Human Development
Becky Antle, Kent School of Social Work
Stephanie Boone, School of Public Health & Information Sciences
Fannie M. Cox, Libraries
Sarah Emery, College of Arts & Sciences
La-Tisha Frazier, School of Medicine
Melanie Gast, College of Arts & Sciences
William Scott Gunter, College of Arts & Sciences
Lora D. Haynes, College of Arts & Sciences
Alexandra Howard, Libraries
David Johnson, School of Public Health & Information Sciences
Kendria Kelly-Taylor, School of Public Health & Information Sciences
Kristi King, College of Education & Human Development
Angel Okorie & Nile Rowe, Engage Lead Serve Board
Nina Vasavada Panchal, School of Medicine
Patrick Possel, College of Education & Human Development
Shelby Pumphrey, College of Arts & Sciences
Cara Snyder, College of Arts & Sciences
Geneva Stark, College of Education & Human Development
Tammi Alvey Thomas, School of Public Health & Information Sciences
Ashley Triplett, Digital Transformation Center
Randy Whetstone Jr., College of Education & Human Development
Jamie Lynn Young, School of Medicine
Source: American Council on Education leader to keynote 8th Annual UofL Engaged Scholarship Symposium (UofL News, March 10, 2023)