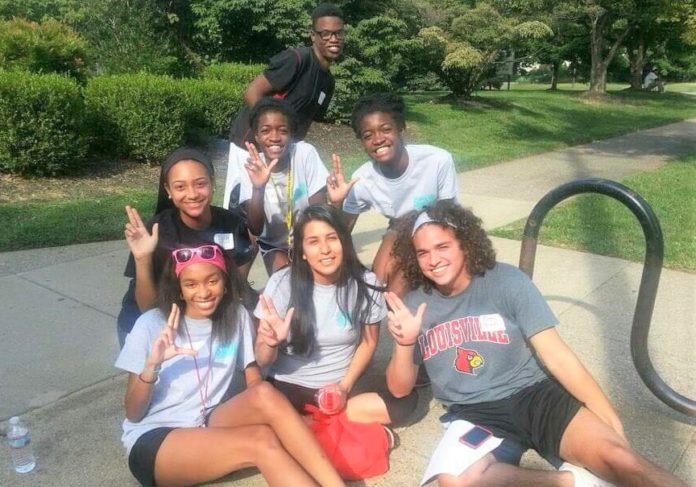 When senior Elizabeth Peña was a high school student, she got an email about UofL's MLK Scholar program. As it turns out, that email was life changing.
"I had received promotion material about the program before, but this email caught my attention because it mentioned the civil rights immersion experience," said Peña, a communication major from Louisville who was selected as an MLK Scholar in 2015.
"The more I learned about the program, the more I wanted to be part of it. I remember every moment of anticipation as I opened the letter," Peña said. "I also felt a sense of relief because my search for schools and financial aid was finally over."
One of the university's most prized scholarships, the award goes to just 10 incoming freshmen each fall semester. It includes full in-state tuition, an $8,000 per year stipend for education-related expenses and opportunities for civic engagement, community service and travel. The scholars also take part in classes and special events focused on social justice and peace. The first MLK Scholar cohort started in fall 2013.
To qualify, applicants must be African American or Latino, residents of Kentucky or southern Indiana, write a compelling essay, have a high school GPA of at least 3.5 and an ACT score of 26 or better.
Luke Buckman, an MLK Scholar founder who performs many roles in the University Honors Program and works closely with students who earn prestigious awards, said the decision to name the MLK Scholar program after the well-known civil rights leader was an easy one.
"During the development of this social justice, civic engagement and service-based mentored scholarship, we believed Dr. King's legacy embodied the essence of what we envisioned this program to be," Buckman said.
He also said that university-wide collaboration is one of the most critical and unique components of the program.
"While housed in the University Honors Program, the MLK Scholars Program could not thrive the way it does without support from the Cultural Center, admissions, the Anne Braden Institute for Social Justice Research, the Peace, Justice and Conflict Transformation Program and numerous others," he said.
John Rhodes, a senior public health major from Lexington and MLK Scholar, credits the program with helping him develop skills in analytical thinking, leadership and service to others.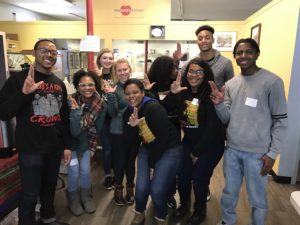 "As a freshman, I didn't know where I could go to find comfort or peace, but I found that within the MLK program," Rhodes said. "I have engaged myself in a number of activities from a nutrition navigator, to a student orientation staffer, to the director of human prosperity, and the MLK program is what encouraged me to venture out into opportunities that were outside of my comfort zone."
Rhodes was able to springboard off those experiences to become a Public Policy and International Affairs Program fellow where he gained valuable experience working as an intern with a hospital CEO.
Tamara Russell, who heads the curricular programming, advising and recruiting for MLK Scholars, said the main difference between the MLK Scholars and other UofL mentored scholarships is a focus on using Martin Luther King Jr.'s work and the civil rights movement as primary points of study.
"Our second-year scholars travel to the cradle of the civil rights movements – Selma, Birmingham, Montgomery and Memphis – to explore these historical areas firsthand," Russell said. "This is so they can gain new insight from this era and how to apply this insight to their academic and professional endeavors."
For Noela Botaka, such insight dramatically changed her understanding of history, racism and how to relate to others.
"I have been exposed to issues that I couldn't comprehend prior to college or never knew existed," Botaka said. "I am a lot more conscientious of narratives being told and often try to look deeper at the underlying contexts. It has made me more aware of my own biases too. The scholars program has definitely helped in shaping who I am today and who I want to be tomorrow."
Botaka and her twin sister, Manuela Botaka, are both 2015 MLK Scholars. They were born in Kinshasa, Congo, and grew up in Lexington. 
Noela said one of the most important things she learned as an MLK Scholar was that there are different ways to lead.
"I used to be scared of taking leadership opportunities because I was convinced that you had to be at the forefront or have some dominant personality," she said. "After the MLK civil rights immersion trip, I learned about those who were at the back end of the movement and contributed a lot to social change."
Like Noela, Rhodes believes the program was an important catalyst for his own growth and transformation.
"I undoubtedly owe a huge amount of gratitude to the MLK program because, without it, I wouldn't have been exposed to the many opportunities that have helped me become the great leader I am today."