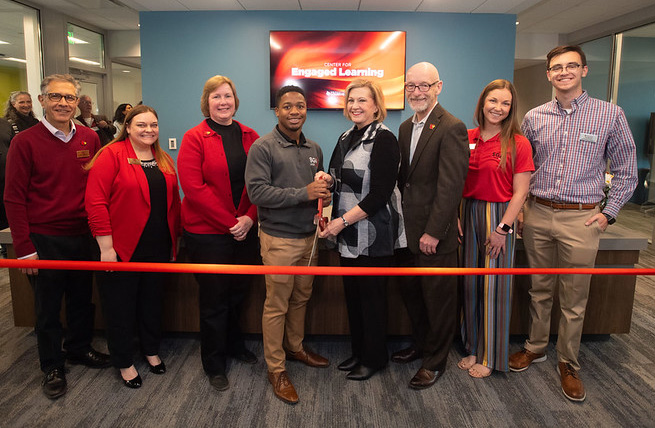 The University of Louisville celebrated its strong ties to the community Oct. 18, with the opening of the Center for Engaged Learning (CEL). Located on the bottom floor of the new Belknap Village South residence hall, the CEL serves as a first stop for students who want to learn about the many internships, studies abroad, research projects, community service projects and other employment opportunities available throughout the university and the community.
The CEL was created to help meet the goals of UofL's 2019-2022 strategic plan, which emphasizes the importance of investing in student success beyond the classroom.
"New facilities, innovative programs as well as exciting and strategic goals for our future all point to a university that is thriving," said UofL Interim President Lori Stewart Gonzalez. "As a Great Place to Learn, UofL prepares students for success here and beyond. We accomplish this by supporting the whole student through transformative, purpose-driven and engaged learning."
"Engaged learning is an active process in which students apply their knowledge to real-world experiences using inquiry, critical thinking, active exploration and reflection thereby expanding their employability skills," said Interim Vice Provost for Engaged Learning Gail DePuy. "We are excited to mark the opening of this wonderful new space on campus which will provide our students with opportunities to expand their learning beyond the traditional classroom."
DePuy said the goal is that all students will have the opportunity to complete at least one engaged learning activity such as an internship, undergraduate research, community-based learning or study abroad experience before they graduate. To meet that goal, the CEL will both facilitate students' access to existing opportunities through the university career centers, international center and office of community engagement as well as grow available undergraduate research opportunities and engaged learning activities incorporated in coursework.
The CEL is not just a resource for students. Community and industry partners often ask UofL for guidance on the best types of students (majors, talents, etc.) for their internship positions and what are best practices for a meaningful engaged learning experience for both the student and the business. To capitalize on the CEL's potential to strengthen UofL's ties to the community, the CEL will assemble an advisory board composed of local community organizations, economic development representatives, industry partners and nonprofits.
"We need hands-on, real-world experience to be fully ready for life after college, and employers expect us to have this type of experiential learning before they make job offers to new graduates," said UofL Student Government Association President Dorian Brown. "Thanks to the strategic plan's Great Place to Learn committees for getting this project off the ground and the university leadership for making the CEL a reality."