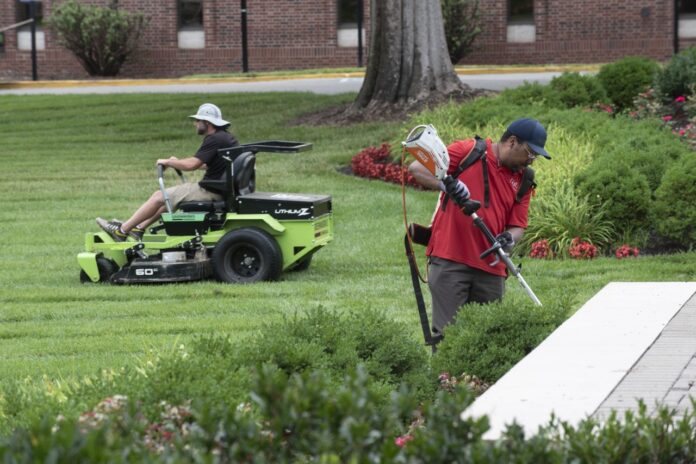 For years, the University of Louisville's Physical Plant department has served as an industry leader and early adopter of cutting-edge, environmentally-friendly landscaping tools and practices. Over the last decade, Physical Plant has reduced the university's carbon footprint by replacing its fleet of gasoline-powered equipment with cleaner alternatives fueled by batteries and propane.
Physical Plant began transitioning toward more sustainable energy over 10 years ago when it converted to propane-fueled lawn mowers. Using propane tanks instead of gasoline reduces UofL's fuel spills, greenhouse gas emissions, and other air pollutants. The department later offered its expertise to other organizations, including Louisville Metro Government, as it began transitioning to propane-powered landscaping equipment.
As technology continued to advance, Physical Plant began working with companies and developers within the industry to procure even more environmentally-conscious equipment. According to Greg Schetler, superintendent of grounds, UofL was the first institution in the commonwealth to start incorporating battery-powered tools into its day-to-day operations.
"We're all here at the University of Louisville for research and education, and that's what the Physical Plant is here to support. We have pushed our suppliers to stock, promote and sell sustainable, battery-powered equipment. We're proud to be the first in the state to move toward these alternatives because it's absolutely the direction we need to go in," Schetler said.
Physical Plant currently owns over 25 pieces of battery-powered equipment, including leaf blowers, chainsaws, weed eaters, hedge trimmers and shop tools. In addition to the several propane-fueled lawn mowers, Physical Plant recently acquired a battery-powered, commercial-grade zero turn lawnmower in March of 2020. This made UofL the first organization in the state to purchase and utilize this particular innovation in green landscaping technology.
Despite the host of benefits offered by sustainable alternatives, the adoption of battery-powered equipment does come with its own set of challenges. In addition to an increased price point, some tools are not functional on a commercial level due to their short battery lives. Physical Plant has been able to cross these hurdles through industry research and strong relationships with various suppliers.
"We consider ourselves early adopters of the technology and we want to support it, but we are not willing to overpay for it; we have to be a fiscally responsible department. So, we work with our vendors to demo products before purchasing, or we do a trial run with the product to make sure the battery life can meet the needs of our groundskeepers."
Physical Plant has served as a champion for sustainability within the industry for the past decade, and the department plans to honor its commitment to the environment by researching and acquiring the newest and cleanest innovations in the coming years.
"It's only going to continue to get better. The equipment will only become more affordable and reliable with time," Schetler said. "The Physical Plant team is keeping an eye on what the future of the green industry is going to look like and how we can continue to become even more sustainable moving forward."