LouVelo city-wide bikeshare launches with stations at UofL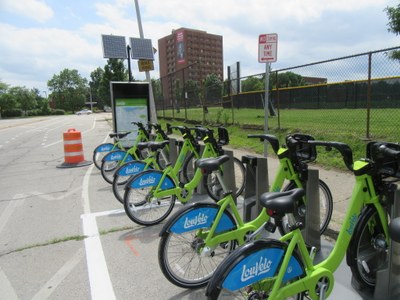 In May 2017, Louisville Metro began installing stations around the city for its new bike share program, LouVelo.
Stations have already been installed at HSC (Floyd & Chestnut, and Floyd & Broadway) and the north side of UofL's Belknap campus (Brook & Cardinal, and 4th & Gaulbert), and more will be added across Belknap campus over the summer.
Louvelo bikes feature an upright riding position, fenders, and a comfort saddle. Anyone can jump on a Louvelo bike and easily pedal across town.
With over 30 stations across Louisville, finding a Louvelo station is quick and easy. Once signed up, you can easily check out a bike and return to any station within the system.
The first hour of use is completely free for members, with usage fees only applied to those checking out a bike for over an hour. You may check a bike into any docking station at any time to restart the clock.
LouVelo members can access any of the 300+ bikes though a station kiosk, a smart phone or with their membership card.
Checking out a bike is quick and easy, and returning it is as simple as parking the bike in the dock.
The free Transit App will also allow users to locate bike share stations and buy bike share passes using their mobile device.