UofL awarded "Coolest School" in Kentucky as President Bendapudi reaffirms Carbon Commitment
On the heels of an annual Greenhouse Gas Emissions Report documenting that UofL has exceeded our 2020 goal and reduced carbon emissions by over 35%, President Neeli Bendapudi has reaffirmed the university's commitment to tackling the greatest crisis facing humanity.
The University of Louisville has been an active member of the ClimateLeadership Network, since 2008, when former President Ramsey signed on to what was then called the American College & University President's Climate Commitment. That act sparked the formation of the university-wide Sustainability Council to spearhead the implementation process and the adoption of the university's first Climate Action Plan in 2010.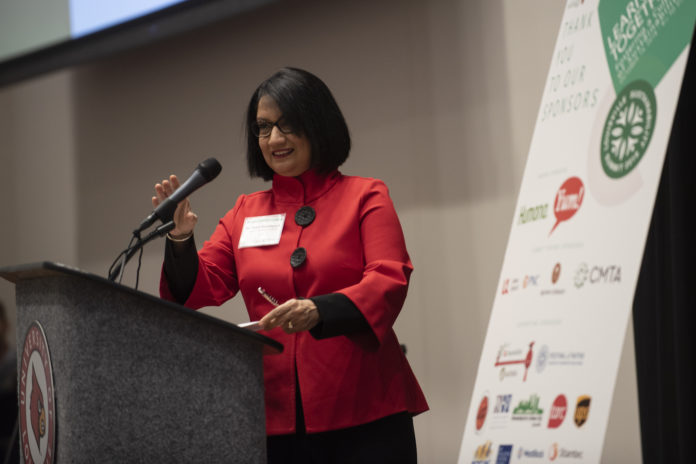 On August 4th, 2021, Dr. Bendapudi re-signed the Carbon Commitment, pledging that UofL would continue onward in its march toward carbon neutrality by 2050. Read President Bendapudi's Carbon Commitment here. UofL Sustainability Council is finalizing a revised Climate Action Plan to reflect the past decade of experience and set new goals. It will be submitted to the administration for consideration this semester.
Then, on September 9th, Sierra magazine once again confirmed that UofL remains the most sustainable Kentucky university, placing 108th out of 328 in its annual "Cool Schools" ranking. Again this year, UofL achieved the highest score in the Commonwealth, earning a 65.79 in the 2021 Cool Schools rankings.
In the midst of a global climate crisis that has fueled an abundance of extreme weather events (wildfires, extreme heat, hurricanes, flooding, drought, etc.), these mark vital signs of hope for a way out. UofL's renewed commitment and success in dramatically exceeding our emissions reduction goals represent that hope.
Everyone can support our efforts by donating to the Green Fund for UofL, and right now, students, faculty, and staff can get directly involved in the effort to reduce emissions by participating in the Cards Commuter Challenge, which runs through Sept. 30th.

In this year's Cool Schools rankings, the University of Louisville maintained its esteemed status as the Coolest in the Commonwealth! at #108 (65.79 points). Three other Kentucky schools made the 2021 list:
University of Kentucky ranked #252 (49.17 pts.)
Western Kentucky University ranked #263 (48.12 pts.)
Eastern Kentucky University ranked #298 (40.06 pts.).
The increased participation knocked UofL down a few notches from #97 last year to #108 in 2021.
These rankings are primarily based upon a school's score in STARS, the Sustainability Tracking, Assessment & Rating System, which is administered by the Association for the Advancement of Sustainability in Higher Education (AASHE). On Earth Day 2019, UofL officially earned a S
TARS Gold rating (66.24%). This was the fourth STARS report we submitted since 2011 and we have increased our score each time. The UofL Sustainability Council is currently gathering data for its fifth STARS report in spring 2022 and devising a Sustainability Plan for the university that is designed as a Path to STARS Platinum.
Additional points can be earned when a university makes a public decision to sell (or avoid) investments in fossil-fuel companies, especially when that decision applies to all endowment holdings (all stocks, bonds, and commingled or mutually owned shares and equity positions) and not only directly held shares. If a school still has some fossil fuel holdings, maximum scores require a plan to continue to sell off additional fossil fuel investments in the next year. While the UofL Foundation continues to shrink its exposure to fossil fuel investments, the university has not made any public decision with respect to fossil fuel investments.
Learn more by exploring the 2021 Cool Schools rankings.