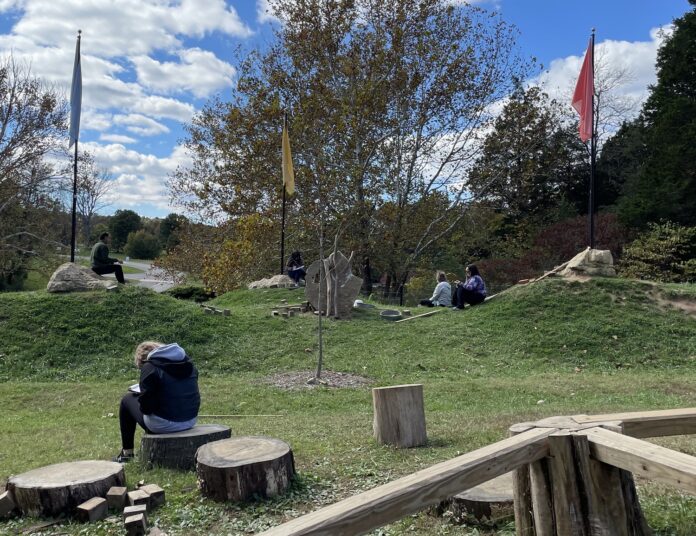 Jordyn Hunter expected to find an ordinary playground when she and her UofL classmates visited the Playcosystem at Bernheim Arboretum and Research Forest.
Instead, they saw natural elements of wood and stone scattered around a sculpted grassy area.
"I thought it would be a normal playground like the ones we are accustomed to, but it was not an ordinary playground," said the senior elementary education major. "I looked at the balance beam – it was two tree stumps and a long piece of wood. We used to do that when I was a kid! It was very natural."
Zone 1 of Playcosystem is part of a 17-acre playground created to provide elementary-age children with open-ended, physically challenging play opportunities using natural elements and items, referred to as "loose parts," strategically included to stimulate their imaginations.
Sherri Brown, associate professor in the College of Education and Human Development, brought 15 students from her science methods class to the playground in October to help the future teachers explore natural surroundings as an opportunity to consider new ways to teach science concepts to elementary students.
"The idea was to get them out there and see what's possible in a playground that is very unique. You see boards, you see levers, you see ramps," Brown said. "Earth science, physical science, materials – all that is in the science curriculum. Here children can experience things that stimulate child-generated questions. This helps our UofL students as future elementary science teachers see what is possible and what is different from formal learning environments."
The students chose and examined three separate areas of Zone 1 to consider how children might use the space and how, as a teacher, they might use items found in the natural world to introduce discussions about science and other subjects to their own students.
Another feature Hunter noticed was a swing suspended on a single line so it could move in multiple directions.
"That shows force and motion. You could talk about music in the noise it makes as it moves. There were so many content areas and concepts that could be taught in this place," Hunter said. "The kids are playing and having fun, but learning at the same time. They are going to learn on their own whether they realize it or not."
Designed by Claude Stephens, director of Bernheim's Children at Play Network, and other members of the Bernheim team, Playcosystem is intended to inspire children to learn by exploring the natural world. Zone 1 of the site, geared to young children, is one of three planned zones. Zones 2 and 3 will introduce progressively larger and more challenging landscapes and natural elements to appeal to more mature children.
Brown, Jill Jacobi-Vessels and Meg Gravil, also of CEHD, are studying and documenting the thought and planning behind the Playcosystem and plan to study how children and families experience it.
"Research has shown that outdoor play benefits children's social, emotional, cognitive and physical development," Brown said. "Knowing why and how it was built deepens their knowledge and the framework of how children and parents engage with the site."
Source: UofL education students explore natural playground as a teaching tool (UofL News, Nov. 5, 2021)