UofL art professor gets creative with invasive species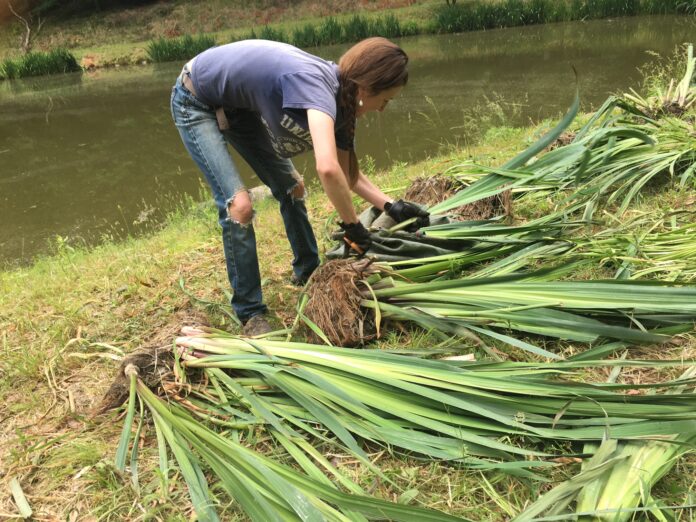 An associate professor in the Hite Art Institute is coming up with creative new ways to eradicate invasive plant species that threaten local ecosystems
Rachel Singel, a printmaker who also specializes in papermaking and book arts, earlier this summer produced paper from yellow flag iris (Iris pseudacorus), which is often considered an invasive plant species. Her project was an extension of one she first started in 2018 as artist-in-residence at Bernheim Arboretum and Research Forest in Bullitt County. There, she made paper from the pulp of a fast-growing Asian tree called tree of heaven (Ailanthus altissima) that can crowd out native species, as well as a vine known as Oriental bittersweet (Celastrus orbiculatus) that kills native trees.
In this summer's project, she traveled to her family's farm in Charlottesville, Virginia, to help out, and "removing the invasives from around the pond was one of the first big jobs," she said.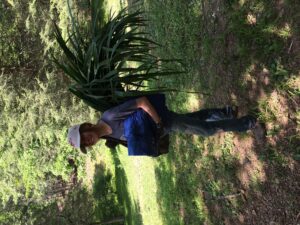 The yellow flag iris, which grows in wetlands, is toxic to livestock and other animals and destroys habitat used by waterfowl and native fish.
She calls the project "Recycling Nature: An Investigation into the Possibilities of Papermaking as an Artform and Means to Promote Environmental Consciousness."
"Invasive alien species are recognized as one of the leading threats to biodiversity and impose enormous costs to agriculture, forestry, fisheries, and other human enterprises, as well as to human health," Singel wrote in her artist's statement. "… I propose that paper made from invasive plants and recycled materials may be a solution to many of the ecological and economical problems that face our world today."
Singel said her goal is to "bring awareness to nature's immense complexity and fragility and promote environmental consciousness."
To make the paper, she first uses a beater to create pulp. The pulp is then poured into a shallow tub and scooped up and strained between two same-sized frames, one with screening tacked over the opening (the mould), the other with an empty opening (the deckle). The result is couched onto several layers of felts or towels, blotted and left to dry (see below).
She used non-toxic methods to then print copper etchings of native plants on the newly made paper. "Conceptually, the union of process and subject embodies an important metaphor for my views," she said.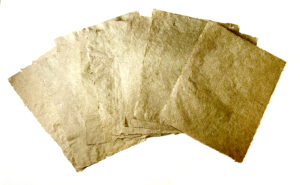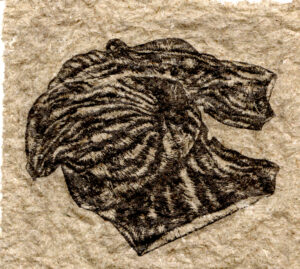 Singel said she continues to be inspired by one of her mentors, papermaker Timothy Barrett, director of the Iowa Center for the Book. 
"I strongly believe that by demonstrating this process, it will take hold," she said. "It provides not only the opportunity to recycle materials and better the environment, but it also promotes creativity and wellness."
Source: UofL art professor gets creative with invasive species (UofL News, July 26, 2021)