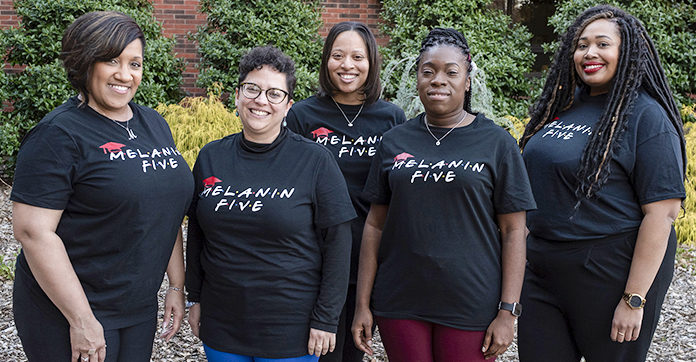 University of Louisville's "Melanin 5" is making history as the largest doctoral cohort in the College Student Personnel Program (CSP), housed within UofL's College of Education and Human Development.
The CSP program at UofL began approximately 40 years ago, with the intent to prepare master's and doctoral students for careers in student affairs; however, the self-proclaimed Melanin 5 is the first CSP cohort to be composed entirely of women of color.
The quintet of women includes Marian Vasser, Nakia Strickland, Sherry Durham, Sarah Nunez and Leondra Gully.
"It is so refreshing to be in an educational program cohort with four other women of color, who motivate and encourage me to achieve the educational and professional goals I have set for myself," said Strickland, assistant director of constituent relations in UofL's Office of Alumni.
Though they have big aspirations for their personal careers, the historical context of their class as a whole is not lost on them.
"As five women of color, I know we are paving the way for those who will come after us," Strickland said. "I feel that we strive to leave our mark on the profession through the work we do and the research that will be done."
"While I have been encouraged for many years to pursue a doctoral degree, the mystification of the entire process made me itch," added Vasser, executive director of Diversity and Equity. "It wasn't until others in this unique cohort continued to push me, once they were admitted, that I gave it serious consideration.
"Imagine that, a cohort full of folks who get you and who get the struggle. Having that built-in layer of support is a once in a lifetime experience."
The women began their coursework in the spring of 2019 and are taking classes related to student development, student affairs programs, policies and practices and college student subcultures.
The classes are designed to prepare students for positions in higher education, including roles in athletics, student success, enrollment management, alumni, financial aid, admissions and obtaining a job as dean of students.
"While I am a lifelong learner, the main goal of me getting this degree is because I'm tired of being told 'no,'" said Vasser, director of diversity education and inclusive excellence. "This, in a lot of ways, is an act of resistance for me. Nobody is gonna shut another door because of three letters." 
The cohort is overseen by Dr. Susan Longerbeam, associate professor in the Department of Educational Counseling Psychology. 
"We know that everybody learns better when there is a diversity of cultural perspectives and intellectual perspectives," said Longerbeam. "If we don't get this right, we're just going to continue replicating privilege in higher education, and that's not what education means. Education is about empowerment."
Through their work together, the group has come to realizations about themselves.
"[The cohort] is also helping us to realize that we're more genius than society has told us we are," said Vasser. "No, you don't have to be perfect, but we actually are perfect for what we're doing. Being in this group with these people has helped me to realize that."
As for their plans after becoming doctors?
"Take over the world," said Durham.
Ira Green contributed to this story.