Cards save and win big in 2021 Commuter Challenge!
We are so proud of everyone who participated in the 2021 Cards Commuter Challenge and helped tackle the global climate crisis while reducing traffic and parking pressures, perhaps getting some sweet exercise, and saving money for yourself and the university!
We are thrilled with our collective accomplishments: From Aug. 30 – Sept. 30, participants logged 1,094 trips on foot, bike, bus, or car/vanpool, covering 11,246 miles, preventing 8,137 pounds of carbon pollution, saving $5,505, & burning 101,600 calories.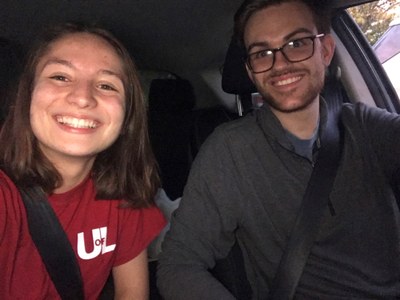 Huge congratulations go out to ULPD staff, Jessica Stivers, who logged the most trips (71 bus rides!) and to our Grand Prize $250 raffle winner: Valeryia Kukharskaya, a REACH student assistant from the Class of 2023, who logged 416 miles over 32 carpool commutes, preventing 169 pounds of carbon pollution.
We hope you will keep using Cardinal Directions to track your savings, find carpools, and explore all of your other alternatives for getting around town more sustainably. And don't forget all of the resources available to support you in your car-free endeavors on UofL's Sustainable Transportation page. Tell your friends about it and encourage them to join the Challenge next fall!
Here are the final standings:
Rank Name Trips
1 Jessica Stivers 71
2 Jolisha Hines 66
3 Justin Mog 64
4 Tonja Craig 62
5 M. Ruth Dike 61
6 Rachel Singel 50
7 Sophia Anner 46
8 Laura Frost 46
9 Tara McKinley 44
10 Cathy Carter 44
11 Joanna Mroczkowska 42
12 Shirley Wu 42
13 Michael Purcell 40
14 Sonja Faul 40
15 Steffany Gayton 34
16 Elizabeth Riesser 34
17 Ryan Lloyd 34
18 Valeryia Kukharskaya 32
19 Alicia Fox 32
20 Chad White 32
21 Wyn Garfinkle Plymesser 25
22 Pat Smith 22
23 Tammy Green 18
24 David Hoetker 17
25 Nicholas Richter 16
26 Jim Warner 15
27 Avery Kolers 13
28 Victoria Levy 12
29 Ethan Johnson 8
30 Lenore Hoyt 6
31 Rachel Roberts 6
32 Darla Samuelsen 4
33 Jill Wegenast 4
34 Chelsea Giovacchino 4
35 Amber Willetts 2
36 Kathy Moore 2
37 Jelayna Williams 2
38 Sean Roth Roth 2