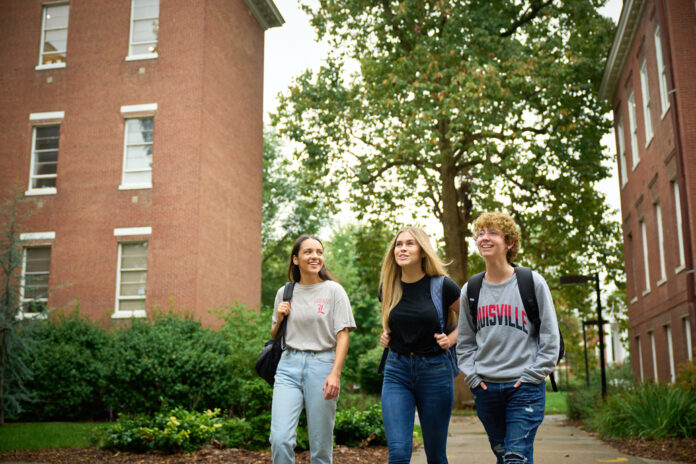 A new scholarship at the University of Louisville aims to eliminate financial barriers to college by covering the bill – down to the last dollar – for eligible Kentucky students.
The Cardinal Commitment Grant is a last-dollar scholarship that pays for the remainder of a student's UofL tuition after they have received and applied federal and state grant awards and additional institutional aid.
"Kentucky students deserve a high-quality and life-changing education, and the Cardinal Commitment Grant allows us to provide that while eliminating the stress of wondering where the money to pay the bill is coming from," said interim President Lori Stewart Gonzalez. "College affordability is a priority for our university and we are continuously looking at ways to increase access to education."
To be eligible for the Cardinal Commitment Grant, students must be Kentucky residents with at least a 3.25 weighted GPA who are first-year students enrolled full time at UofL for the fall 2022 semester. Students must have filed the 2022-2023 (FAFSA) and be eligible for a Pell Grant.
"We are proud to serve many Pell-eligible and first-generation students," said interim Provost Gerry Bradley. "The Cardinal Commitment is another chance for us to redefine our students' success and do our part to improve social mobility."
The Cardinal Commitment Grant is renewable until a student earns their first bachelor's degree; however, the initial award amount is locked in for that time frame regardless of changes to state or federal aid.
Eligible students should apply to UofL by March 1 to be considered for the Cardinal Commitment Grant. Additional details on the scholarship are available at uofl.me/card-commitment.
Last-dollar scholarships are designed to award additional aid to cover the cost of tuition. The award amount is calculated by taking the cost of tuition minus all federal and state grant awards minus all university/institutional aid. The Cardinal Commitment Grant will cover tuition and bundled fees.
Source: UofL launches Cardinal Commitment Grant to fill the gap in college cost (UofL News, Feb. 17, 2022)