Startup licenses UofL technology for rubber recycling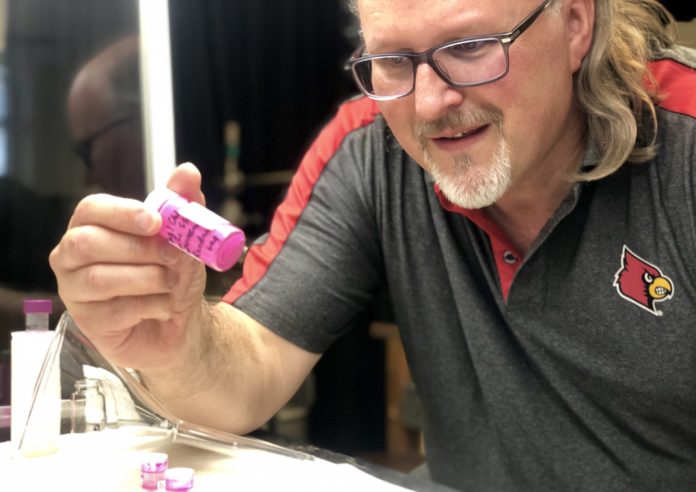 A Pennsylvania-based startup, Arduro Sustainable Rubber, has licensed a technology invented at the University of Louisville for recycling vulcanized rubber, used in products like car tires.
Vulcanization makes the rubber more durable, but also makes it difficult to break down for recycling. Today, a lot of used rubber is burned for fuel, chopped up or left in landfills. 
The UofL technology, invented by Dr. Gerold Willing and Patrick Kroeger, a UofL PhD student and now senior process engineer at Arduro, uses creative chemistry to sustainably reclaim the rubber used in tires and other rubber-based products, like garden hoses, plastics and shoe soles.
"With this technology, we can take the rubber, break it down, and recycle it into new rubber," said Willing, a UofL associate professor and associate chair of chemical engineering.
Willing worked with the UofL Commercialization EPI-Center, under the Office of Research and Innovation, to protect the technology's intellectual property and find a commercial partner. 
That partner is Arduro CEO Ian C. Lowe, who liked the sustainable approach to addressing waste tire and rubber. The U.S. burned some 1.7 million tons of waste tires in 2017, according to U.S. Tire Manufacturers Association (USTMA). Burning that rubber releases CO2 into the atmosphere. 
Lowe wants to shift more of that to recycling, "which we were previously unable to do," he said. "There's a great opportunity to reduce our CO2 footprint and produce high quality recycled product to go back into everyday products."
Lowe licensed the UofL technology after just two months of collaborative discussion and negotiation with the Commercialization EPI-Center, working with commercialization manager, Kayla Meisner. Lowe said he now hopes to work with UofL to develop further applications for the technology, and has opened an R&D and manufacturing facility in Louisville. 
Lowe said Arduro has aggressive plans for expansion, and is developing a new rubber recycling facility capable of processing 20 tons of rubber per day. He said the new facility is scheduled to begin construction in 2020.
"When you look at places best suited to advance this technology and have the 'know-how' and capacity to do so, the Speed School of Engineering at the University of Louisville and Louisville area are unique," he said. "Not every school and region can do that. This one can."
Willing has been working on this technology since the mid 2000s. He said working in lock-step with the Commercialization EPI-Center helped drive the technology's development, and gave him insight on potential applications, customers and market size. 
"By fostering the development and commercialization of technologies like this one, we can create strong partnerships that connect researchers, technology and industry," said Dr. Allen Morris, EPI-Center's executive director. "We're looking forward to working with Dr. Willing and Arduro to get this technology to market."
Source: Startup licenses UofL technology for rubber recycling (UofL News, June 17, 2019)