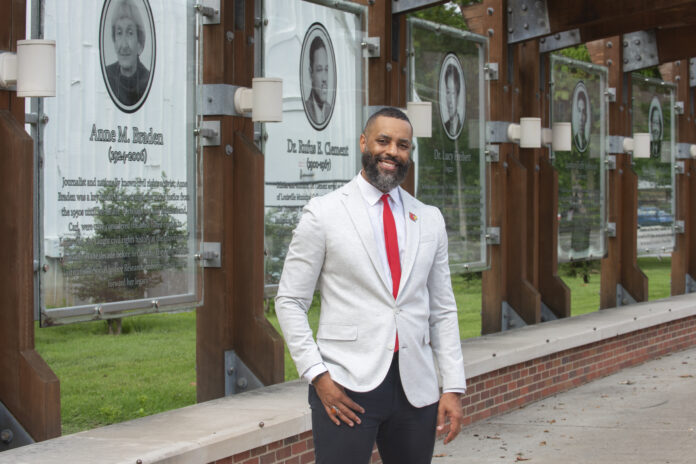 Michael "Brandon" McCormack, has been named director of UofL's Anne Braden Institute for Social Justice Research. He is the institute's first Black director, replacing co-founder and outgoing director Cate Fosl, who will stay engaged in the institute as a faculty fellow.
The ABI, a program within the College of Arts and Sciences, was established in 2006 and honors the work and legacy of longtime racial justice organizer, educator and journalist, Anne Braden. McCormack shares his thoughts in this Q&A interview.
UofL News: Describe your passion and the 'why' behind your desire to lead the institute.  
McCormack: I am drawn to the ABI's mission of bridging the gap between scholarship and activism, and the possibilities that this mission presents for our campus and community in this crucial moment of racial reckonings.  
UofL News: What is your vision for the ABI and how does it build on the legacy of Anne Braden, along with co-founders Cate Fosl and the late J. Blaine Hudson?  
McCormack: As director, I want to position the ABI as a synergistic hub of critical thought, creative activity and community-engaged research. A place where faculty, staff and students across an array of disciplines can make connections between their research — whether it is in geography or gender studies; Jewish studies or jazz studies — and ongoing struggles for racial and social justice.  
UofL News: What goals do you hope ABI will accomplish over the next five years?  
McCormack: What I appreciate most about Anne Braden was that she was deeply committed to racial and social justice, but never centered herself in the work. She once described herself as joining "a long chain of struggle," that stretched back long before her and would extend long after she was gone. I hope to help more and more people find creative ways to join, and be sustained in, the work of that long chain of struggle. If by the end of my directorship, we can look back and see where more and more students, staff and faculty found ways to link up to, deepen their engagement with, persist in, and expand upon that ongoing freedom struggle, I will have done my job.  
UofL News: How does this support UofL's anti-racism agenda?  
McCormack: The ABI, in collaboration with other units, can play a vital role in cultivating the critical intellectual thought and community-engaged practices that undergird the work of an aspiring "premier anti-racist public research university." The recent racial uprisings — national, global, and perhaps most significantly, local — that called forth UofL's anti-racism agenda require a renewed wrestling with the varied, and often fraught, relationships between scholarship and activism. In this moment of renewed struggle, and intensified backlash, those connected to the ABI must be committed to a sense of academic excellence and social responsibility that vigorously resists the violent workings of a white supremacist, capitalist, hetero-patriarchal, social order. At the same time, we must help others to imagine and envision a far more beautiful alternative that inspires people to want to strive to bring about a more just society for all of us. As I see it, that is Anne Braden's legacy, and the ABI should further community-engaged intellectual work that expands upon that legacy.  
UofL News: Your research explores the intersections between Black religion, popular culture, the arts and activism. Tell us more about this.   
McCormack: As a Black Studies scholar, trained in history and critical theories of religion, cultural studies, social ethics and practical theological approaches to the study of religion, I bring critical questions of meaning, value, vocation and what it means to be human to bear upon racial and social justice research and action. This means that in addition to the historical and social scientific approaches that have grounded the work of the ABI to date, I am interested in calling greater attention to the indispensability of spirituality, culture and the arts in movements for racial and social justice. I see this as consistent with Anne Braden's profound relationship to, and struggle alongside, the likes of Martin Luther King, Jr., James Lawson, Vincent and Rosemarie Harding, Ella Baker and Bernice Johnson Reagan.  
UofL News: Describe your role as a speaker and influencer outside the academic setting.   
McCormack: As the child of parents who never attended college, I am deeply invested in speaking to, and learning from, communities of everyday people, who gather to make meaning and struggle for freedom outside of the academy. The ABI can play an important role in amplifying the voices and concerns of those who are consistently relegated to the margins of society — those who may never enroll at the University of Louisville, or even set foot on a college campus. I see my work as director as a way of becoming more deeply rooted in community-engaged scholarship while refusing to relinquish critical intellectual engagement with the best that the academy has to offer.  
UofL News: Anything else you'd like to share with us?  
McCormack: I am very excited to be entrusted with this work and I look forward to possibilities for collaboration on campus, within the community, and across the country!