UofL's College of Education and Human Development opens Social Justice Library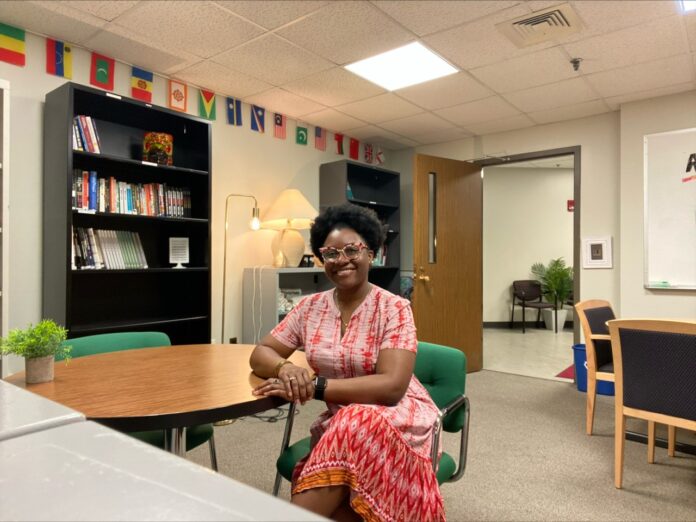 A new space in UofL's College of Education and Human Development aims to provide resources, tools and opportunities for faculty, staff and students to engage in conversation and learning around social justice topics.  
The CEHD Social Justice Library hosted its opening ceremony in late February. 
"I knew there was a need for more guidance in terms of reading, as well as a space to have critical conversations," said Brigitte Burpo, the unit's assistant dean for Diversity, Equity and Inclusion.  
Making the transition from faculty member to assistant dean beginning in May of 2021,  Burpo knew the space was needed among her colleagues in the College of Education and Human Development.  
"I had questions from college leadership regarding book recommendations and summer reading circles, so I was already finding books that could spark conversation. Those kinds of conversations confirmed to me that there was a need for more resources specific to social justice," Burpo said. 
The converted space, once a conference room located in the Dean's Suite, has been turned into a cozy and inviting nook.  
"I saw more of need for a communal space rather than simply a space devoted to meetings," Burpo said. "When you look around our building, we have a lot of spaces devoted to formal meetings. We have less opportunity to meet informally and comfortably in a space that encourages conversation around social justice and diversity."  
Burpo added she wants the space to be a "hub" where people can find at least one book about their own identities, or a list of resources they can seek out. The space itself includes materials about several identities groups, including international students, those with disabilities, LGBTQIA+ students and more.
Burpo relied on expertise within the College of Education and Human Development to curate many of the resources now present in the library.  
"I know my own area of expertise is in race and ethnicity, so I relied on others with expertise in diverse areas to offer recommendations and guidance into what resources should be offered," Burpo said.   
Burpo intends to expand the library's function in the coming months, with plans for "Mid-day Movies" – short films hosted during lunch hour to inspire discussion, community, and comfort with difficult topics.  
The Social Justice Library is continuing to accept donations of books and learning resources. Contact Burpo at brigitte.burpo@louisville.edu for more information about donations, starting resource circles, or making resource recommendations. 
Source: UofL's College of Education and Human Development opens Social Justice Library (UofL News, April 27, 2022)