Kamila Bujko pedals 4326mi as Team UofL's Grand Champion in the 2020 National Bike Challenge
Team UofL pedaled strong from May through September for fossil fuel-free fitness, fun, and frolicking (i.e. transportation) in the 2020 National Bike Challenge.
As we rode across the finish line on September 30th, UofL staff, faculty, and students accumulated a total of 24,840 miles on 1,871 rides, with 478 bike commutes of 3,241 miles preventing 2,083 pounds of carbon pollution! This is equivalent to the amount of carbon released by burning 106 gallons of gas; or the amount of carbon sequestered by 1.2 acres of U.S. forests in one year!
The UofL Sustainability Council & Get Healthy Now congratulate our top riders who all started strong in May and continued pedaling at a great pace throughout the Challenge: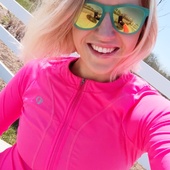 Team UofL's 2020 Champion is Kamila Bujko, a Visiting Scholar at the Cancer Center. She pedaled the most miles (4,326) over the second most bike rides (192) and the 4th most bike commutes (27 commutes for 210 miles). From May through September, Kamila burned 160,065 calories while biking and kept 135 lbs of carbon pollution out of the atmosphere! Kamila will be awarded the grand prize of a $400 voucher to a local bike shop!
Team UofL NBC 2020 Runners-up:
Melissa Miller, a French Lecturer, logged the most trips on two wheels (302), the second most miles (3,469), and the 8th most bike commutes (12 trips for 246 mi).
Justin Mog, UofL's Sustainability Coordinator, was Team UofL's best bike commuter, with 139 commutes totaling 1,609 miles; and 3rd best rider overall with 158 bike rides totaling 2,069 miles.
Rachel Singel, a faculty member in Fine Arts, was Team UofL's 2nd best bike commuter, with 88 commutes totaling 198 miles; and 5th best rider overall with 94 bike rides for 208 miles.
We congratulate everyone who joined in the fun, fitness, and clean commuting in 2020 and hope you've adopted some healthy new habits to carry forward into 2021! Everyone is invited to join us again in May 2021. Register for the National Bike Challenge. Join Team UofL in the Challenge.
Check out our online resources for UofL Bicyclists - with handy maps, videos, and tips for getting around town care-free and car-free!
 Full Team UofL Top Rider Results for the National Bike Challenge (May-September) 2020:
Top Commuters (Most days riding to work)
| | | | |
| --- | --- | --- | --- |
| | Name | Miles | Days |
| 1st | | 1,609 | 139 |
| 2nd | | 198 | 88 |
| 3rd | | 140 | 45 |
| 4th | | 210 | 27 |
| 5th | | 198 | 25 |
| 6th | | 25 | 20 |
| 7th | | 67 | 14 |
| 8th | | 246 | 12 |
| 9th | | 127 | 6 |
| 10th | | 93 | 6 |
Top Riders (Most trips)
| | | | |
| --- | --- | --- | --- |
| | Name | Miles | Trips |
| 1st | | 3,469 | 302 |
| 2nd | | 4,326 | 192 |
| 3rd | | 2,069 | 158 |
| 4th | | 597 | 120 |
| 5th | | 208 | 94 |
| 6th | | 235 | 90 |
| 7th | | 622 | 78 |
| 8th | | 472 | 74 |
| 9th | | 2,893 | 63 |
| 10th | | 1,063 | 62 |
Top Male Rider (Most Miles)
| | | | |
| --- | --- | --- | --- |
| | Name | Miles | Trips |
| 1st | | 2,893 | 63 |
| 2nd | | 2,069 | 158 |
| 3rd | | 1,635 | 56 |
| 4th | | 1,155 | 52 |
| 5th | | 1,063 | 62 |
| 6th | | 965 | 54 |
| 7th | | 953 | 58 |
| 8th | | 741 | 32 |
| 9th | | 472 | 74 |
| 10th | | 267 | 13 |
Top Female Rider (Most Miles)
| | | | |
| --- | --- | --- | --- |
| | Name | Miles | Trips |
| 1st | | 4,326 | 192 |
| 2nd | | 3,469 | 302 |
| 3rd | | 915 | 61 |
| 4th | | 746 | 35 |
| 5th | | 685 | 36 |
| 6th | | 622 | 78 |
| 7th | | 597 | 120 |
| 8th | | 366 | 13 |
| 9th | | 364 | 20 |
| 10th | | 235 | 90 |