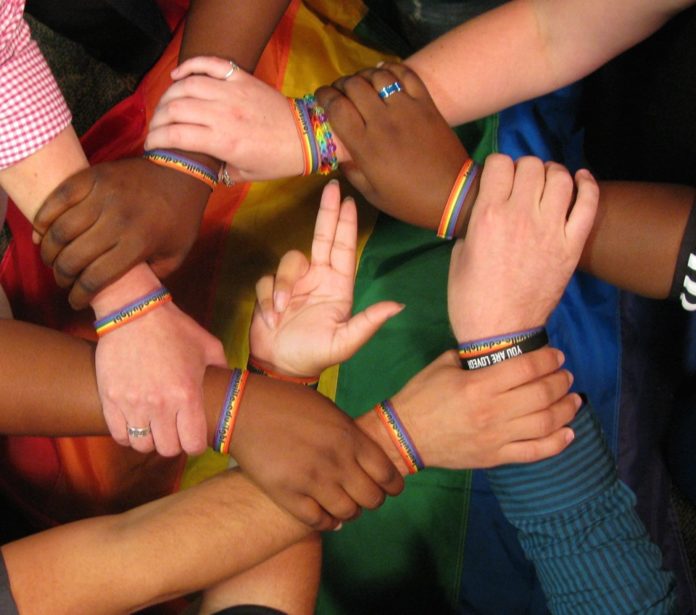 The University of Louisville has been named among America's "Best of the Best" LGBTQ-friendly universities for the sixth year.
UofL earned five out of five stars from the Campus Pride Index, a national nonprofit organization that rates colleges and universities according to their support of lesbian, gay, bisexual and transgender issues.  
UofL earned a five out of five for the following inclusion factors:
Sexual orientation score
Gender identify/expression score
LGBTQ support and institutional commitment
LGBTQ student life
LGBTQ counseling and health
LGBTQ recruitment and retention efforts
UofL earned a four or four and a half out of five for the following inclusion factors:
LGBTQ policy inclusion
LGBTQ academic life
LGBTQ housing and residence life
LGBTQ campus safety
Some of UofL's signature LGTBQ-friendly initiatives include offering an LGBT Studies minor program, the School of Medicine's curriculum inclusion efforts (which have become a national benchmark for other institutions), the LGBT Center's robust programming, LGBTQ-inclusive career services, LGBTQ clubs at the undergraduate and graduate levels, trans-inclusive healthcare, free and anonymous HIV/STI testing and LGBTQ student scholarships.
The LGBT Center marked its 10th anniversary in 2017.
Campus Pride acknowledges UofL's goal to foster and sustain an environment of inclusiveness. The organization's synopsis states, "One of the five critical areas of the University of Louisville's 2020 Plan is Diversity, Opportunity, and Social Justice. UofL is committed to creating a challenging intellectual climate enhanced by our many human differences, and this serves as the foundational objective of the programs and services provided by the Office for Lesbian, Gay, Bisexual, and Transgender Services. The Office supports the 2020 plan by working to strengthen and sustain an inclusive campus, one that welcomes people of all sexual orientations, gender identities, and gender expressions through support, educational resources, and advocacy. The office works in partnership with other diversity efforts on campus supporting the Vice Provost for Diversity and International Affairs."
UofL supports that 2020 plan by:
Maintaining a "safe zone" gathering space where students, faculty and staff—regardless of their identity or orientation–can make positive connections with staff and peers
Providing a hub for LGBT student organizations
Promoting student/employee retention and success through personal support, advising and by connecting them with services and resources
Developing and facilitating education and training for the campus community
Reaching out to prospective and new students, faculty, and staff to make them feel welcome and connected to campus
UofL is one of only three Kentucky institutions on this year's list. The 2020 "Best of the Best" listing is based on the data provided annually through CPI related to policies, programs and practices. The research is analyzed by the Campus Pride research team. More information is available online.
Source: UofL once again named 'Best of the Best' for LGBTQ friendliness (UofL News, Oct. 16, 2020)