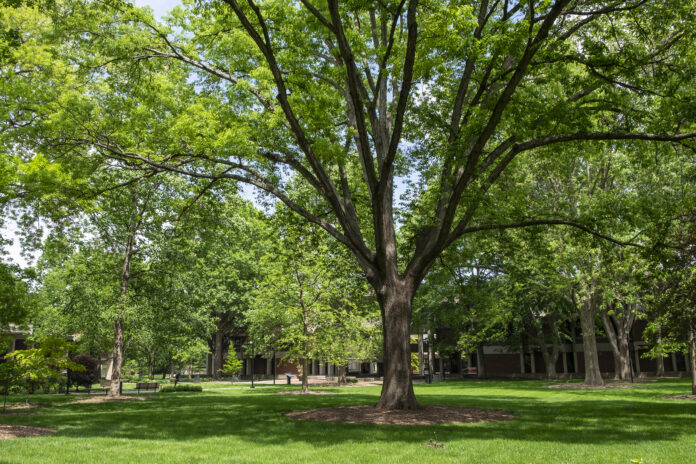 The Arbor Day Foundation has recognized the University of Louisville as a "Tree Campus USA" for 10 years.
UofL boasts more than 2,000 trees on its 309-acre Belknap Campus. The trees represent more than 130 species, including many native to the region. Among them are ash, dogwood, tulip poplar (the Kentucky state tree), oak, persimmon, magnolia and elm, including a rare American elm. 
Tree Campus USA is a national program launched in 2008 by the Arbor Day Foundation that honors colleges and universities for promoting healthy trees and engaging students and staff in the spirit of conservation. UofL was first recognized in 2010 for its tree care plan. 
To obtain this distinction, UofL met the five core standards for an effective campus forest management: 
Establishment of a tree advisory committee
Evidence of a campus tree-care plan
Dedicated annual expenditures for its campus tree program
An Arbor Day observance
Sponsorship of student service learning projects
UofL's Arbor Day Celebration 2020 is scheduled for Friday, Oct. 23 from 8:30 a.m. to 4:30 p.m. at various locations across both the Belknap and HSC campuses. More information is available online here. 
To read UofL's 12-page tree care plan, click here. 
Source: UofL achieves Tree Campus designation, again (UofL News, Aug. 10, 2020)