Campus events, Capitol announcement seek to draw awareness of human trafficking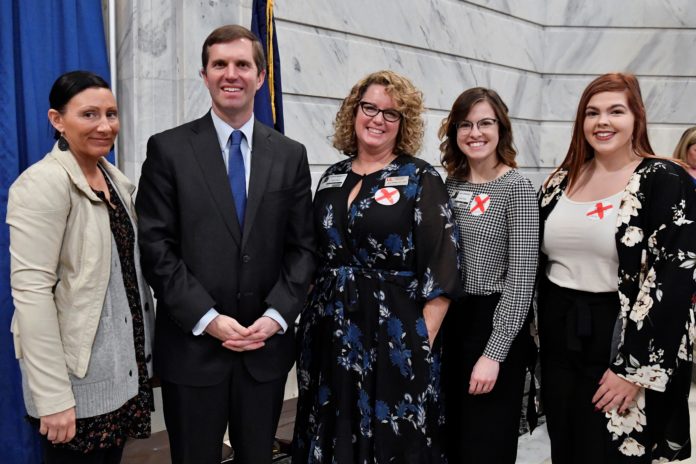 From the state Capitol to Belknap Campus, University of Louisville research about and efforts to fight human trafficking are getting extra attention during National Human Trafficking Awareness Month.
UofL will have two new January campus events and offer its 10th annual Human Trafficking Awareness Conference to focus on the issue and to help victims receive aid.
And recent research by UofL's Human Trafficking Research Institute, announced Jan. 7 in a Capitol Rotunda news conference with Governor Andy Beshear and Attorney General Daniel Cameron, indicates human trafficking, particularly of children and vulnerable youth, occurs at high rates across Kentucky, according to Jennifer Middleton, institute director and associate social work professor.
"These findings serve as a call to action and highlight the need for improved community education and awareness. To respond to this call, we are joining Gov. Andy Beshear, trafficking survivors and our university partners to elevate the conversation here on campus," she said. "UofL students, staff and faculty can play an important role in preventing and addressing human trafficking in our community."
The Frankfort announcement included initial results of Project PIVOT (Prevention and Intervention for Victims of Trafficking), which UofL did in partnership with Kentucky's Department of Community Based Services and the Attorney General's Office with two-year grant funding of $100,000 from the Kentucky Children's Justice Act Task Force.
Researchers reviewed 698 reported cases of child trafficking over a five-year period between 2013 and 2018. The review was done primarily to answer the question of what happened to those cases in the child welfare system. Among the findings:
A majority of the cases involved family-controlled trafficking, meaning a family member (most often a parent or primary caretaker), gave offenders sexual access to the child in exchange for money, drugs or something else of value.
Children trafficked by family members were younger and more likely to have multiple perpetrators than those trafficked by nonfamily.
Younger children, rural children and children with previous child welfare involvement were more likely to have multiple perpetrators.
The involvement of drugs in child trafficking cases increased significantly during the five-year period.
Project PIVOT results will be used to ascertain gaps, systemic issues and opportunities for enhanced education, training and policy development.
"What we are finding is that the majority of the time, the crime of child trafficking isn't being carried out by strangers passing through our towns," Middleton said. "This has implications for how we educate our communities about child trafficking as well as how we prepare child welfare workers and first responders to identify and respond to potential child victims. Community awareness and enhanced training for professionals are key to preventing and addressing child trafficking in our state."
Beshear invited state leaders, advocates and survivors to help draw awareness to the issue.
"By coercing victims into and profiting from forced labor and commercial sex, human traffickers represent some of the worst of humanity," the governor said. "As attorney general I was honored to work with so many passionate advocates and survivors to help combat trafficking and as governor I commit to do the same. We will not stop until we end trafficking, and we must all work together to do so."
Campus events 
Here are details about the free, public campus events:
A January 11 film screening and state premiere of "California's Forgotten Children," a documentary about child sex trafficking, and panel discussion afterward will be 5:30 p.m.-9 p.m. at Gheens Science Hall and Rauch Planetarium. Donations will be accepted to fight human trafficking in the community. Reservations are requested and can be made online. UofL's Kent School of Social Work, UofL's Women's Center, Louisville Metro Human Trafficking Task Force and Louisville Metro Office for Women are sponsors.
A January 14 Human Trafficking Awareness Resource Fair and discussion will be in the Student Activities Center Ballroom. Featuring numerous agencies, the fair will be 11 a.m. to 1 p.m.; stickers and survivor-designed postcards will be provided as part of a national #EndIt campaign. The fair leads into a 1:30-2:30 p.m. Critical Cardinal Conversation on Trafficking and Missing Women of Color by panelists including a National Center for Missing and Exploited Children representative, a parent and former police officer. Sponsors are the Human Trafficking Research Initiative, Project STAAR, Women's Center, Cultural Center, Office of Diversity Education and Inclusive Excellence and Women 4 Women Student Board.
The 10th annual Human Trafficking Awareness Conference is 5:30-8 p.m. Feb. 11 in the Student Activities Center Ballroom. Doors open at 4:30 p.m. for a resource fair and light refreshments. Sponsors are the Women's Center and the Women 4 Women Student Board.
Source: Campus events, Capitol announcement seek to draw awareness of human trafficking (UofL News, Jan. 8, 2020)