Environmental Justice Bus Tour
When
Sep 28, 2022
from

01:45 PM

to

05:00 PM

Where

Departs from Urban & Public Affairs (426 W. Bloom St.)

Contact Name
Dr. John Gilderbloom
Add event to calendar

vCal




iCal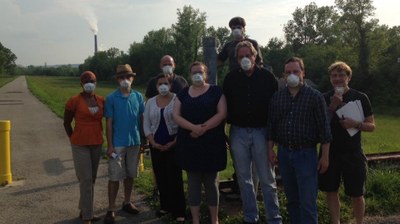 UofL students, faculty, and staff are invited to join the Department of Urban & Public Affairs for a unique bus tour of Louisville on September 28th, loading at 1:45pm and returning no later than 5pm.
The bus will leave promptly at 2pm. Its a intense program. Please bring masks, water, notebooks and a strong stomach (you will see things that might upset you).
UPA professor, John Gilderbloom will act as your tour guide, highlighting the work of UofL's Center for Sustainable Urban Neighborhoods. You will explore their partnerships with renewal of the once boarded up Village West into City View Park; 553 brand new apartments that bring pride, respect, and joy; 200 newly built home ownership opportunities by Louisville Central Community Centers; Kentucky African American Museum; and then a drive down Portland Avenue to see the newly developed "rainbow corridor" and signs of renewal with Chromatic Homes and the work of Gill Holland.
We will then shift our focus to Rubbertown sites and industries that make the air, water, and soil unsafe and unlivable: coal ash, chemical factories emitting toxins and distilleries causing black mold on nearby homes.
There are fifteen extra seats available or UofL faculty, staff, and students. Please make a reservation by contacting Dr. Gilderbloom at John.Gilderbloom@louisville.edu.
This bus tour coincides with the Cards Commuter Challenge, so be sure to record your trip on Cardinal Directions and through September 30th, you'll have the chance to win one of the $50 weekly prizes or the $250 Grand Prize! One student and one faculty/staff member will win each week! Any trip by means other than driving alone increases your chances of winning! View Leaderboard.