Ride like Kamila & Melissa in the National Bike Challenge!
May - September 2020


UofL's Sustainability Council & Get Healthy Now congratulate our top riders so far in the National Bike Challenge. During Bike Month in May, Kamila Bujko, a Visiting Scholar at the Cancer Center rode the most miles (731); and Melissa Miller, a French Lecturer, logged the most trips on two wheels (37) and second most bike commutes behind Sustainability Coordinator, Justin Mog, in the Provost's Office. We are awarding them the leaders jerseys for now, but it's not too late to #ChooseCycling and win.
Saddle up and ride for team UofL in the 2020 National Bike Challenge! Show your support for a healthy lifestyle and sustainable transportation. Register for the National Bike Challenge and Join Team UofL as an individual to compete against your peers. Your miles and days cycled will qualify employees for great prizes through Get Healthy Now, including the grand prize of a $400 voucher to a local bike shop, co-sponsored by UofL's Sustainability Council! The National Bike Challenge is open to everyone, however the Get Healthy Now competition is restricted to UofL employees, retirees, and their spouses/qualifying adults. Check out our online resources for UofL Bicyclists - with handy maps, videos, and tips for getting around town care-free and car-free!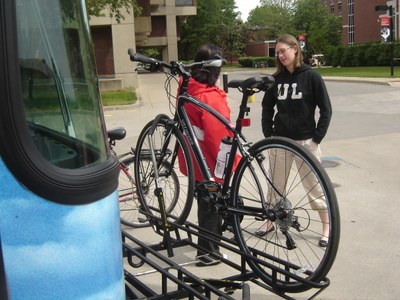 Here's the full UofL results for May 2020:
236 Trips cycled
987 Commute miles biked
84 Commute trips biked
3,793 miles cycled
713 lbs CO2 kept out of the atmosphere
Top Riders (Most Miles)
| | | | |
| --- | --- | --- | --- |
| | Name | Miles | Trips |
| 1st | | 731 | 35 |
| 2nd | | 723 | 37 |
| 3rd | | 503 | 22 |
| 4th | | 448 | 12 |
| 5th | | 266 | 34 |
| 6th | | 216 | 11 |
| 7th | | 214 | 11 |
| 8th | | 209 | 14 |
| 9th | | 175 | 30 |
| 10th | | 99 | 4 |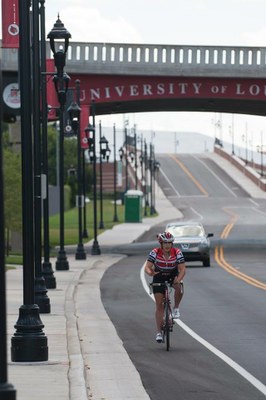 Top Riders (Most Rides)
| | | | |
| --- | --- | --- | --- |
| | Name | Miles | Trips |
| 1st | | 723 | 37 |
| 2nd | | 731 | 35 |
| 3rd | | 266 | 34 |
| 4th | | 175 | 30 |
| 5th | | 503 | 22 |
| 6th | | 209 | 14 |
| 7th | | 448 | 12 |
| 8th | | 216 | 11 |
| 9th | | 214 | 11 |
| 10th | | 57 | 11 |
|   |   |   |   |
Top Commuters (Most Days Riding to Work)
| | | | |
| --- | --- | --- | --- |
| | Name | Miles | Days |
| 1st | | 260 | 29 |
| 2nd | | 246 | 12 |
| 3rd | | 127 | 6 |
| 4th | | 93 | 6 |
| 5th | | 37 | 6 |
| 6th | | 8.4 | 6 |
| 7th | | 46 | 4 |
| 8th | | 94 | 3 |
| 9th | | 59 | 3 |
| 10th | | 16 | 1 |
Top Commuters (Most Miles Riding to Work)
| | | | |
| --- | --- | --- | --- |
| | Name | Miles | Trips |
| 1st | | 260 | 33 |
| 2nd | | 246 | 13 |
| 3rd | | 127 | 7 |
| 4th | | 94 | 3 |
| 5th | | 93 | 6 |
| 6th | | 59 | 3 |
| 7th | | 46 | 4 |
| 8th | | 37 | 7 |
| 9th | | 16 | 1 |
| 10th | | 8.4 | 7 |