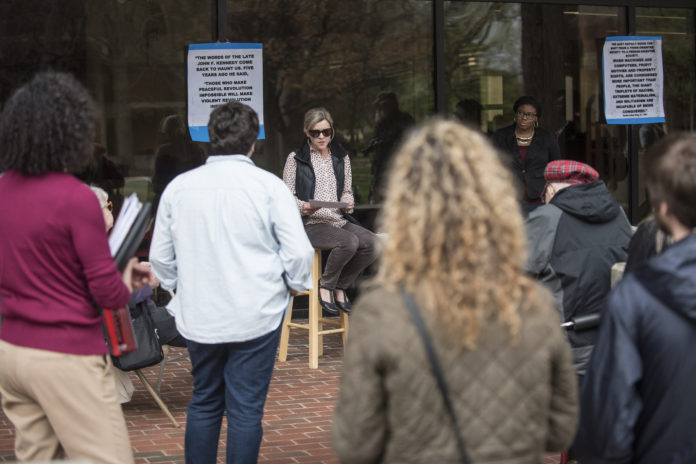 March 30, 2017, marked 50 years since Dr. Martin Luther King Jr. visited the Brandeis School of Law. 
While he had visited Louisville many times during the 1960s, this 1967 visit was his only visit to the University of Louisville, and the law school was his only stop on campus.
To a packed Allen Courtroom, he delivered his famous antiwar speech "Beyond Vietnam: A Time to Break Silence."
To celebrate the anniversary of this momentous visit, the Brandeis Law Library hosted a panel featuring three speakers who reflected on King's legacy and the civil rights work that remains to be done: law Professor Cedric Powell; attorney Stephen Porter, who as a law student helped organize King's visit; and Dr. Ricky Jones, chair of UofL's Pan-African Studies Department.
"Dr. King's law school speech is profoundly meaningful to us today," said Powell, calling on the attendees to embrace their role as public citizens. 
"As scholars, we have an institutional and public duty to enlighten," he said. "As students, it means holding on to your dreams and recognizing that their will be difficult times in your life and career but that there is power in study and struggle.
"Dr. King said that a time comes when silence is betrayal. As we commemorate Dr. King's historic visit to our law school, the best way to honor his memory is to break the silence," Powell said.
Also, on April 4 the Anne Braden Institute for Social Justice Research hosted an MLK Read-In where members of the UofL community read King's "Beyond Vietnam: A Time to Break Silence" speech, largely considered King's most radical critique of the war and policies that created it. Photos from the read-in are available online.