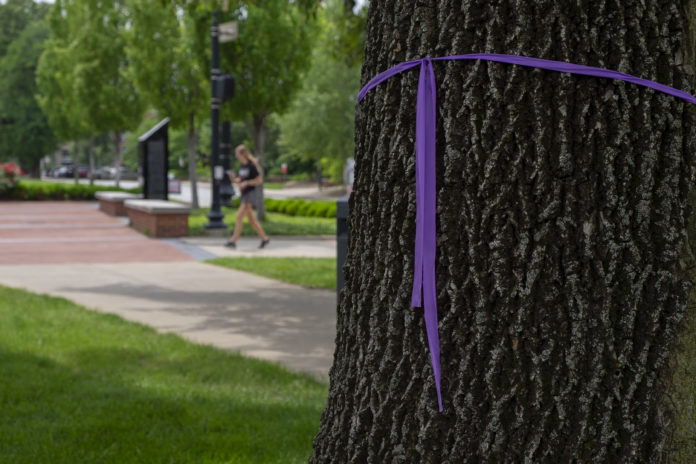 Ash trees are under attack.
The emerald ash borer, an invasive green beetle from Northeast Asia, has destroyed tens of millions of ash trees since it first appeared in the U.S. in 2002. It threatens to kill most of the 8.7 billion ash trees as it spreads throughout North America. 
But UofL Grounds is taking steps to ensure that the 80-some ash trees on campus are safe for generations to come.
Every two years, Grounds contracts with Limbwalker Tree Service to inoculate ash trees with an insecticide that prevents the ash borer larvae from burrowing into their bark. 
"It's very effective," said Greg Schetler, grounds superintendent who oversees campus trees.
Those walking around campus recently may have seen trees marked for treatment with purple ribbons. Limbwalker injects each tree with an IV-like apparatus in the morning, when trees move moisture from roots to leaves.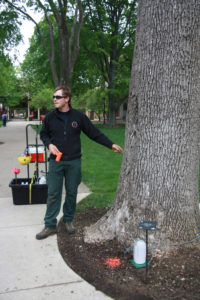 The university began the bi-annual treatments in 2010, when the beetle first appeared in the region.
"We were a little ahead of the curve," Schetler said.
Since then, campus has lost a few ash trees from construction and natural death, but none to ash borers.
As stipulated in UofL's Campus Tree Care Plan, Grounds strives to safeguard existing trees and replace ones that die or are removed. There are more than 2,500 trees on the 309-acre Belknap Campus representing more than 130 species, many of them native to the region.
Ash is an important species in this collection, as most are mature trees with large canopies in prominent areas.  
Treating the trees makes financial sense as well, Schetler said. Once trees are infested, they typically die within three years. Removing that many dead trees on campus would cost tens of thousands of dollars. 
"It's really something the university should be proud of," Schetler said. "Our trees are part of the identity of Belknap Campus. People may not know what Belknap has to offer, but you won't forget it once you're here. It's a nice place to be."
Justin Mog, Assistant to the Provost for Sustainability Initiatives, agrees.
"Protecting our native ash trees from this invasive exotic pest is emblematic of why UofL has been named as a Tree Campus USA by the Arbor Day Foundation for nine years running," he said. "After this beetle ravages our forests, UofL may wind up having one of the largest remaining live stands of ash trees in the region. In that sense, we are preserving Kentucky's natural heritage and cultural heritage as white ash is the wood used to make Louisville Slugger baseball bats."
Grounds also treats Belknap's three elm trees, a species devastated by Dutch elm disease in the last century.
And, the university recently was gifted three American chestnut trees that have been cross-bred with Chinese chestnut trees. There's hope these hybrids will be resistant to the blight that drove American chestnuts into extinction. Before the 1900s, the American chestnut was the predominant tree species in eastern forests. Schetler said he hasn't decided yet where to put the chestnut saplings on campus.  
"At some point, we'll likely be one of the few pieces of property that have American elm, American ash and the hybrid American chestnut," he said. 
Those who would like to learn more about UofL's trees may pickup a map to take a self-guided tree tour at the campus visitor information centers.