Chloe Forsting wins Bike Month Challenge as Team UofL pedaled 5351 miles!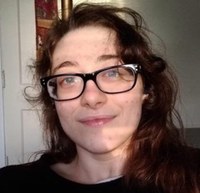 After four months of friendly competition, at the Bike Month Challenge finish line, it was Ekstrom Library Assistant, Chloe Forsting, who wore the yellow jersey for Team UofL! Throughout May 2023, Chloe not only racked up the highest number of bike trips (49), but finished second in the Bike Commuter challenge by pedaling for transportation 117 miles over 21 days, and they finished 14th out of 32 riders for total miles pedaled (132). To recognize their commitment to two wheeled transportation, Chloe won the Grand Prize, a $200 voucher to a local bike shop!
The UofL Sustainability Council and Get Healthy Now also wish to recognize some other Team UofL members who achieved great things in the saddle during Bike Month:
Taylor Smith pedaling the Big 4 Bridge
Rachel Butler loves to ride!
IT Systems Manager for the Speed School of Engineering, Taylor Smith, finished, just like he started, by logging the most miles of any Team UofL rider, an astounding 650 miles over 21 trips!
Bolstered by her win in Cycle September 2022, Anthropology post-doc Rachel Butler posed a strong challenge throughout Bike Month and finished with both the second most number of trips (45) and the second most number of miles (509) pedaled by a current UofL rider! Rachel finished 7th among Bike Commuters, with 14 miles over 6 rides.
The top Bike Commuter for May was UofL's Assistant. to the Provost for Sustainability Initiatives, Justin Mog, who pedaled 333 miles for transportation over 28 days.
And everyone can be proud of Team UofL's collective impact during the Bike Month Challenge 2023:
Total miles pedaled: 5351 miles
Total miles of bike commuting: 753 miles
Total trips on bike: 445 trips
Total number of bike commute trips: 137 trips
Total carbon pollution kept out of the atmosphere: 484 pounds
Keep rolling all summer long and make plans to join us on two wheels again at the start of the fall for Cycle September 2023, your next chance to win a $200 bike shop voucher for riding with Team UofL in addition to national prizes!
Final Team UofL Standings:
Top Male Rider

(Most Miles)
Top Female Rider

(Most Miles)
Top Commuters

(Most days riding to work)