UofL interior design students gain experience through homeless veterans project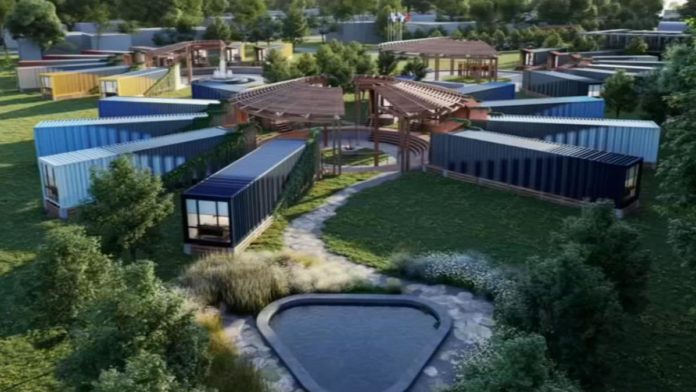 In the fall of 2019, Valerie Fuchs, a part-time professor at the Hite Art Institute in UofL's Department of Fine Arts, tasked her interior design students with designing a few rooms and raising funds for the Louisville Hotel for the homeless.
Unable to reach anyone in time, that project was put on hold. But the fire had been ignited in Fuchs, who was determined to find something that mixed a comprehensive interior design project with benevolence.  
Around that same time, she read an article about Camp Restoration, a planned community of homes made of shipping containers for homeless veterans in southwest Louisville. The objective of Camp Restoration is simple: to help those veterans get back on their feet.
As reported by WDRB, the idea for the community came from Jeremy Harrell, founder and CEO of the Veteran's Club, who recruited Paul Sirek, an architect at Luckett & Farley, to conceptualize what those homes would look like.
Coincidentally, Sirek works with Fuchs' husband. So, she asked if her critique class could participate in the project. Initially, the class was approved to design two of the planned 25 container homes.   
"After we had a critique with Jeremy Harrell, he was so happy about how different each design was, that he said we could do more," Fuchs said. "He wanted the veterans to be proud of their homes and show them off to encourage socialization."
The 20 students went through the entire design process, coming up with three different schemes each and choosing one to pursue. At one point, there were 36 different single-family home designs and 24 different family home designs.
The junior class (eight students) had the family home, which consisted of four containers, while the sophomore students (12) had the single container home to design. However, the project entailed much more than just interior design. Each home has to be tailored for challenges like PTSD, for example.
With adaptive reuse of a shipping container, the students were initially required to design homes within the containers, similar to  interior design programming in most projects, Fuchs said. But the project grew as the students began their work.
"After working with the students, I thought they needed to learn how to work on the process of how to create great design as they all were so talented. So I adapted that style of studio, similar to how an architecture traditional studio is run," she said. "Design is design and it needs rigor to accomplish anything worthwhile."
The students' process for the "adaptive reuse project for homeless veterans" included:
A summation of nine readings covering design theory, PTSD, homelessness and sustainability.
The creation of three collages and models.
Site visits of other container-built structures (the Russell Neighborhood Community Center, Copper & Kings and Jeremy Semones Core Containers).
A lecture and critiques by Jeremy Harrell of the Veteran's Club and architect Paul Sirek.
All of that was even before the design development for a 9-foot-by-40-foot shipping container. The students created a thesis, designed at least four schemes and generated four plans, four elevations, one section and renderings in perspective/axonometric. They also created color and furniture finishes for the project and endured several in-class critiques before creating the construction documents. The documents included dimensions, plans, elevations, sections, schedules and cut sheets/specs.
Additionally, two students, Kayleigh Garner and Micheal Blanton, taught themselves how to use AutoCad drafting software during the project and then taught other students how to use the programming as well.
According to Fuchs, working on this "real" project allowed the students to gain the experience of solving problems within conditional parameters. 
"They learned the structural limits, had to learn codes for egress, fair housing requirements of room sizes, natural light, zoning and where to put the electrical box. These are real problems interior designers face every day and the sooner you know what your parameters will be, the better designer you will become," she said.
Despite the abrupt shift to remote operations in March due to COVID-19, the project, and the students' enthusiasm for the project, continued.
"Even during quarantine, the students were able to create construction documents," Fuchs said. "The students really rose to the challenge and went way beyond my expectations. Their enthusiasm for a real project that will help so many veterans was amazing. I loved their designs and how deeply they thought this through. They worked so hard and I am so proud of them and their efforts."
Although COVID-19 has put most things on hold, the groundbreaking for Camp Restoration was still held over spring break and the community is expected to be completed in 2021.
Meanwhile, fundraising continues for the community, and Fuchs plans to do what she can for that effort through a new, online free design service called Design for Everyone. The idea is that anyone can submit their home design problems and Fuchs and a few UofL students, acting as interns, will come up with a solution.
"In exchange we are going to ask for donations to be sent to Camp Restoration," Fuchs said. "It is going to be fun. I had been wanting to have a real project that could give back to the community for my two interior design classes, as I believe good design is for everyone."  
Source: UofL interior design students gain experience through homeless veterans project (UofL News, May 21, 2020)