Bringing the greens: Ville Grill features new microfarm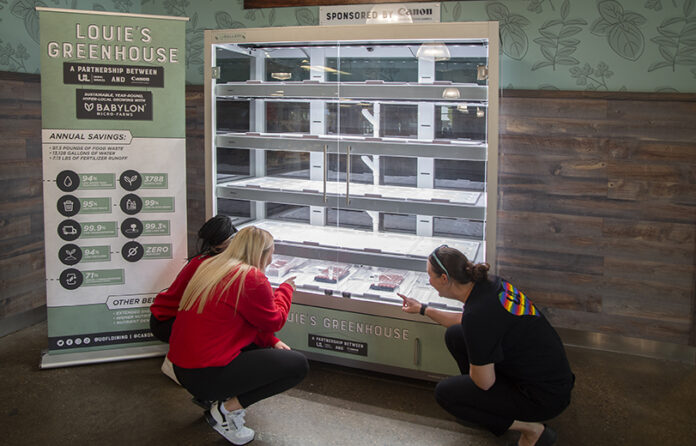 Over fall break Ville Grill welcomed a fresh addition to help Cardinals go even greener.
Louie's Greenhouse is an indoor hydroponic microfarm requiring only water and nutrients to grow greens all year around with no pesticide involved. The farm can grow a total of 45 different microgreens, lettuces, other leafy greens (like kale and Swiss chard) and even flowers. Tangy Basil Mix, Italian Herb Mix, cilantro and dill are already sprouting in the vertical greenhouse.
According to Babylon, the maker of the microfarm, each unit reduces water usage, carbon emissions and chemical runoff found in traditional farming, with one farm netting 7.13 pounds of fertilizer runoff avoided annually; 97.5 pounds of food waste saved annually; 13,128 gallons of water saved annually; and 676 single-use plastic saved annually. 
The farm is one of the newer sustainability initiatives that UofL Dining Services provider Aramark is implementing across campus.
"I wanted to bring hydroponic growing to campus as soon as I got here! It's a great way to interact with students and get them involved with growing their own food," said Lindsay Klingenschmidt, Aramark sustainability manager. "We've been working with Canon Solutions America and UofL Auxiliaries on a partnership to help make our vision a reality."
Along with providing Ville Grill chefs with fresh produce, Louie's Greenhouse demonstrates UofL's commitment to sustainability and is proudly supported by corporate partner Canon. 
"Canon's corporate philosophy of Kyosei—all people, regardless of race, religion, or culture, harmoniously living and working together into the future—fuels our dedication to conducting business in harmony with the environment. Canon Solutions America has a strong commitment to promoting both our own sustainability efforts and those of our customers," said Peter P. Kowalczuk, president of Canon Solutions America. "So, when UofL told us about the opportunity to support the installation of an indoor vertical farm on campus, it was a win-win. Not only does this way of growing greens reduce environmental impact, it's also a beautiful and fun way to enhance the experience for the university's students. We are excited to explore even more ways Canon Solutions America and UofL can partner to make a positive impact on both students and our planet." 
Ville Grill's location was a no brainer since they see over 1,000 students and faculty every day. Microfarm planners hope to have a positive impact on students and influence them to get more involved with their own food. The farm is surrounded by glass so guests can come and see what is growing inside.
Klingenschmidt and two sustainable dining interns oversee care of the flourishment of the greens since the farm must be locked to keep the food they're growing safe from contamination and tampering. But Ville Grill visitors will see the farm open when the two students are working each week. The interns also work hand-in-hand with Ville Grill chefs to see what the chefs would like to add to the microfarm and how they would like to incorporate it into Ville Grill meals.
This is not the only initiative showing the growth of sustainability throughout campus. UofL and Aramark are working on multiple other projects like incorporating more Zero Waste events, emphasizing recycling and composting, along with adding more local produce and fair-trade certified products on campus.
Follow UofL Dining on Instagram (@uofldining) to get updates on Louie's Greenhouse.
Source: Bringing the greens: Ville Grill features new microfarm (UofL News, Oct. 12, 2022)