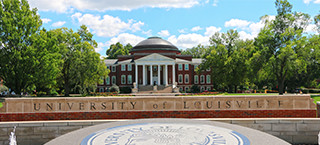 Significant financial support for students and preservation of benefits for faculty and staff are among the top priorities in the university's proposed budget for 2021-22, which will be presented to the Board of Trustees for approval Thursday, June 24.
Executive Vice President for Finance Dan Durbin unveiled the proposed budget at a Board of Trustees workshop in late May. UofL is projecting an overall operating budget of $1.32 billion from all funds, including a general fund budget of $536.3 million.
Durbin stressed that the budget aligns closely with the university's strategic plan, particularly focusing on making UofL a great place to learn by channeling significant funding toward student affordability and additional investments in academic areas
Returning students will pay less to attend UofL in 2021-22
The budget includes a $104 per semester tuition increase for all undergraduate and graduate students. However, that increase will be more than offset for continuing undergrads in 2021-22 by a minimum $400 per student per semester grant from UofL through CARES Act funding. Highest-need students can receive a maximum award of $1,500 in the fall with a mean award value of $781 across the continuing undergraduate students. Continuing graduate and professional students may also apply for CARES funding.
"Student affordability was priority one for us," Durbin said. "Just as we did this past year, we are directing our CARES Act funding directly into our students' pockets."
In addition, students will see no increase in housing, dining or parking fees this year.
And, for the second consecutive year, UofL has purchased 700 laptop computers to support first-time students with the highest financial need.
Faculty and staff to receive salary bump, no increase in health insurance
The budget proposal also includes significant support for faculty and staff. Durbin noted the budget includes $5.2 million for a compensation supplement program. That includes a 1% salary increase as of July 1 and another potential increase in January based on the university meeting certain enrollment and financial targets.
Faculty and staff support also will include:
Employee retirement benefits, reduced as part of cost-reduction efforts in 2020, will be restored on July 1 to an automatic university contribution of 7.5% for eligible employees, with an additional 2.5% match for a like employee contribution
No increase in employee health insurance premiums for the second consecutive year, with the cost increase entirely borne by the university
No parking fee increase for faculty or staff; monthly rates as low as $26 per month for full-time employees
No change in the employee tuition remission plans (100% for eligible employees and their dependents)
"Even in tough financial times, it is vital that we invest in our people, whether they're students, faculty or staff," Durbin said. "We always wish we could do more, but this represents a sincere effort to support all members of our campus community."   
Fiscal 2021 ends with balanced budget
Durbin and Rick Graycarek, assistant vice president for budget and financial planning, told the trustees the university expects to end Fiscal Year 2021 on June 30 with a balanced budget due to prudent financial planning and controls on spending throughout campus. Increased grant funding and better-than-expected enrollment were among the reasons cited for the strong budget.
The balanced budget is particularly important, Durbin said, as it shows a rebound from the financial crisis passed to President Bendapudi and her team by prior administrations. Only three years ago, the university's poor financial status led to potential sanctions from the Southern Association of Colleges and Schools (SACS), which accredits higher education institutions, including UofL.
"What this administration – and this university – has done in the past three years is truly remarkable," Durbin said. "The entire campus should be proud. Every corner of campus contributed to this financial turnaround."
The university's strong financial performance has been acknowledged by the world's largest credit rating agencies. Both S&P Global Ratings (formerly known as Standard and Poor's) and Moody's Investors Service recently confirmed UofL's progress by enhancing its financial outlook from "negative" to "stable." That recognition helps reduce the interest rates on some university debt and further enhances the university's profile in higher education. The tuition rate increase still must be approved by the Kentucky Council on Postsecondary Education this month.