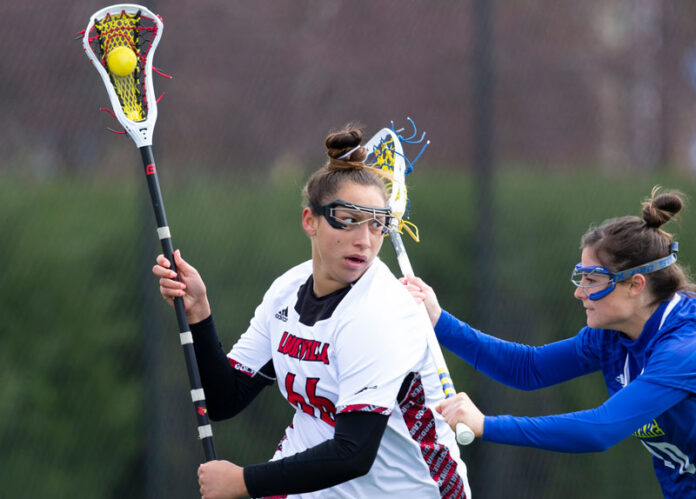 Believed to be the first Seneca Nation woman to sign a letter of intent to play lacrosse at the NCAA Division-1 level, senior attacker, Shayla Scanlan uses her platform at UofL to teach others about her culture.
Lacrosse, which originated in Native American communities, is deeply rooted in Scanlan's heritage.
"People think lacrosse is a rich white sport," Scanlan told US Lacrosse. "You are able to play this game because of my people, my descendants, my ancestors."
Nearing her senior season at UofL, Scanlan has been playing lacrosse as long as she can remember.
"That's kind of how it is for everyone in my family," Scanlan said during a recent interview with UofL News. "I have a brother, who is three, and he already plays. When it's nice outside that's where we are – in the front yard playing lacrosse." 
Although November is designated as Native American Heritage Month, Scanlan's effort to encourage others to learn about Native American heritage is not limited to a 30-day period. She treats it the same as any other month – by celebrating her roots.
"I celebrate Native American Heritage month no different than any other month," Scanlan said. "I'm proud of my heritage and putting a label on a specific month doesn't change it."
Whether she's using slang from her reservation or adding information in conversation, Scanlan makes an effort to introduce her teammates at UofL to aspects of Native American heritage on a routine basis.
"They ask me questions, or I'll just throw in some facts that happened on those days years before," said Scanlan. "Also, multiple teammates have come to visit me on the reservation during breaks. They love to know about everything and they are all open to learning about it."
Scanlan wants November's Native American Heritage month to be more prominent so that Native Americans can have more of an opportunity for their voices to be heard when educating others about their history.
"Native Americans don't have huge platforms to educate people or let people know what's going on," said Scanlan.
As a D1 athlete, Scanlan's platform to educate others has grown. Lacrosse has allowed her to educate others, expose her teammates to her culture, and give teammates enough of an understanding so that they can also answer questions when asked.  
"I love [having this platform]," Scanlan said. "I honestly love educating people. Being here at UofL, it gives me this platform and lets me teach my teammates so they can teach someone else."
Source: UofL lacrosse player uses platform to educate others about Native American Heritage (UofL News, Nov. 30, 2020)